BBC Newcastle Radio Presenter Dies, New Leaflet, Two More Doctors Speak Out, London Rally, Superparamagnetic Nano Particles, Funeral Homes Quizzed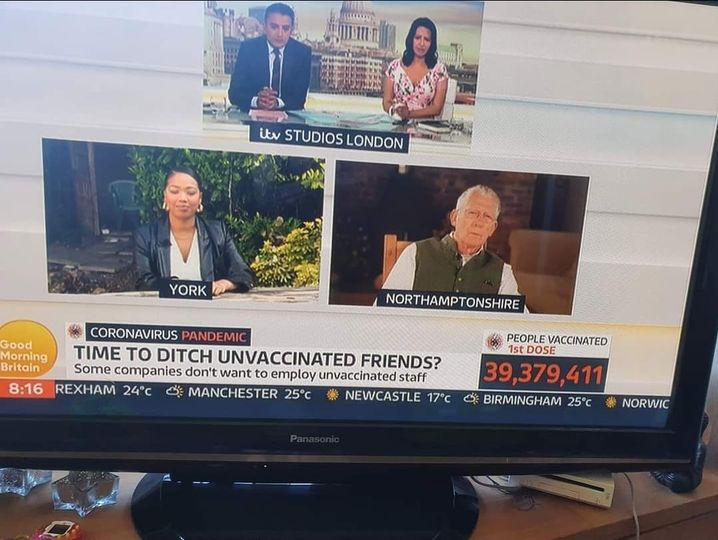 The UK shamestream media promotes medical apartheid and mass-medical experimentation. Time to ditch them if you haven't already.
Lisa Shaw death: BBC presenter had blood clots after AstraZeneca jab, family says
Bearing in mind the above image, this story is even more significant, I think. Radio Newcastle broadcaster had severe headaches a week after vaccine and fell seriously ill days later, relatives say
https://www.theguardian.com/media/2021/may/27/bbc-presenter-lisa-shaw-died-of-blood-clot-after-astrazeneca-jab-family-says
UK – COVID/Vaccine Info Leaflet For Distribution
I have updated an earlier leaflet posted it here:
https://tinyurl.com/covques2021 (may take a few seconds to load/appear)
Feel free to share this link, post on social media and wherever! If you want to get your own leaflets, you can order direct from:
https://www.cheapestprintonline.co.uk/Gloss%20Flyers/A5%20Double/130gsm%20Gloss/24hr-nodesign.php
and pay with your own card/PayPal. Download the PDF file from the page above and then simply upload the same file and fill in the details (copy across the order number you get after payment and paste into the box when you upload the file). Doing it yourself would save me some time, but if you only get a few 100 done, it's much more expensive per leaflet, of course. (Have a look at the prices).
If you would like some of these, please send me:
Name
Quantity Required (up to 500)
Postal Address
An open video from NZ GP Damian Wojcik
An eloquently delivered message showing why the "vaccine" should not be used.
https://www.covidplanb.co.nz/data-science/an-open-video-from-nz-gp-damian-wojcik/
World Renowned Doctor Discusses Covid "Vaccine Safety" Data
This is a pretty good 16 minutes, but he does not express regret that his own patients have mostly been vaccinated (which is kind of odd, considering everything else he says). He also does point out that there wasn't a real pandemic. Nevertheless, his statements about the reasons for – and effects of – the use of the "vaccine" are on-point.
https://rumble.com/vhp8e1-massive-world-renowned-doctor-blows-lid-off-of-covid-vaccine.html
Dr. Peter McCullough has been the world's most prominent and vocal advocate for early outpatient treatment of SARS-CoV-2 (COVID-19) Infection in order to prevent hospitalization and death. On May 19, 2021, he was interviewed regarding his efforts as a treating physician and researcher. From his unique vantage point, he has observed and documented a PROFOUNDLY DISTURBING POLICY RESPONSE to the pandemic — a policy response that may prove to be the greatest malpractice and malfeasance in the history of medicine and public health.
Dr. McCullough is an internist, cardiologist, epidemiologist, and Professor of Medicine at Texas A & M College of Medicine, Dallas, TX USA. Since the outset of the pandemic, Dr. McCullough has been a leader in the medical response to the COVID-19 disaster and has published "Pathophysiological Basis and Rationale for Early Outpatient Treatment of SARS-CoV-2 (COVID-19) Infection" the first synthesis of sequenced multidrug treatment of ambulatory patients infected with SARS-CoV-2 in the American Journal of Medicine and subsequently updated in Reviews in Cardiovascular Medicine. He has 40 peer-reviewed publications on the infection and has commented extensively on the medical response to the COVID-19 crisis in The Hill and on FOX NEWS Channel. On November 19, 2020, Dr. McCullough testified in the US Senate Committee on Homeland Security and Governmental Affairs and throughout 2021 in the Texas Senate Committee on Health and Human Services, Colorado General Assembly, and New Hampshire Senate concerning many aspects of the pandemic response.
Peter A. McCullough, MD, MPH, FACP, FACC, FAHA, FCRSA, FCCP, FNKF, FNLA
London Rally/Protest – 30th May 2021
A fairly good write-up, just about the event – not pushing a narrative in any sense.
https://www.conservativewoman.co.uk/on-the-march-at-saturdays-anti-lockdown-protest/
Superparamagnetic nanoparticle delivery of DNA vaccine
Is this relevant to what some people seem to have demonstrated – i.e. magnets sticking to their skin at the "jab site."
https://pubmed.ncbi.nlm.nih.gov/24715289/
NHS calls for ban on toy neodymium magnets amid child safety fears
Hmmm – I wonder why this has suddenly become an issue… just a coincidence… It may, indeed, be a legitimate concern – but the story mentions "balls" more specifically…
https://www.bbc.co.uk/news/uk-57290239
CALLED SEVERAL FUNERAL HOMES REGARDING COVID [2021-05-27] – BRITTANY HEAD (VIDEO)
This video is a compilation – and includes the one of the British funeral director who said that deaths have increased since vaccination started. The initial part is a recording of a researcher calling a number of funeral homes in Canada and asking if there were more funerals in 2020 – without exception, they all say "about the same" as previous years.
https://www.bitchute.com/video/Ih1Z3SYbNUQ6/
https://www.bitchute.com/video/Ih1Z3SYbNUQ6/