Boris is Better, Taking a Stand, Positive Disinformation, A Sad Case and UK Policing Critique
If you're a bit fed up of this subject, you can, of course just delete this update or temporarily unsubscribe from this list. I do still feel the situation is a bit precarious and so I do encourage anyone to share any of this information in any way they feel comfortable.
I am trying to compile some of it to challenge authorities (and people who still just fall into line) to review the whole situation and I will post this report/summary soon.
Taking a Stand
Andrew Mather's  Magnificent 7 Walk (12 mins)
I am thinking of trying to organise something similar locally here… But I feel the same way as Andrew Mather in the video.
Mark Devlin's Candid Address (9 mins)
Mark Devlin expresses how many of us are feeling (warning: expletives included!)
Berlin Protests – A City Which was Part of A Police State in the 1980s
(2 mins)
A scathing and funny critique of UK CV Thuggery (by Fake Police) (20 mins)
More expletives, at the end! This is extremely well done and a stinging expose of the sort of nonsense that his happening in some places here (no sign of this where I live, fortunately).
A Sad Story from Gloucestershire
I was sent this by a lady who lives there who has been very skeptical of the whole affair. He commentary shows what is happening to some elderly people, who are now separated from their families near the end of their lives:
 I've been keeping up (as much as I can stomach) with yours and many other emails about the ongoing scam, and just wanted to lend my twopence on something, if you wanted to share it with your readers (please don't mention my name, I don't want the identities of the people I'm talking about being traced through me, for their privacy). I carry out private care work for a couple – the wife with alzheimers (87)and the husband (90) with Parkinson's. The husband has recently been taken to hospital (Gloucester) after deterioration, and their daughter has not been allowed to see him, at all, even though they told her he would unlikely come out of hospital again. She has no idea what they are doing to him, or for him (or not doing, as the case may be), and he is too ill to be able to demand he be discharged, or fight his way out!
 The hospital has this on their website: *There will be special allowances made for birthing partners, parents or guardians of patients under the age of 18, patients with a learning disability or autism who require a carer, relatives collecting patients on discharge and those at the end of life.  These will be restricted and visiting must be pre-arranged with the nurse or midwife in charge.
 He is certainly in the category of end of life, if the hospital has said he would not come out again.
 I'd also liked to add the waiting times (as of today) advertised in A&E are:
Gloucestershire Royal Hospital
39
minute wait
18
people in queue
Last updated: 14 Apr 2020, 11:29 a.m.
Clearly not overwhelmed, nor so busy they couldn't allow one person at a time to enter.
 I spoke to their daughter today, who was understandably at her wits end and had kind of settled into not having any power to do anything, and so I told her to go higher. Try and contact someone in the council (not that many of them are actually working at the moment) and also the local MP, and anyone else above the hospital, to let them know this is happening. Essentially, this suggests older, vulnerable people are being taken away alone, and left alone (I don't count staff as being good company) to die in hospitals that are barring – rather than mildly restricting – admission of their families. He could pass away and not have his family around him or even get to say goodbye, and the family would have no idea why, when or how, before a death certificate was issued. Shockingly, she said I was the first person to disagree with the fact she's been barred from seeing her dying father…
 I wonder if all those people in the new cult of nationwide cheering on NHS staff have any idea how much pain these so-called care institutions are piling of families of frail, vulnerable, and dying older people. I'm not blaming all NHS staff, however, many of them, by allowing this disgusting policy (against the actual written policy), are a party to it by default. I hope they're ashamed of themselves. 
Boris Johnson's Health Scare  – A Little Digging
[UPDATE: I received the following from another reader!
". Not disagreeing with the Boris bullsh*t "poor boris has bravely fought it off story", but… you also have to take this article with a pinch of salt. Searching the NMC register for a name isn't very accurate. You have to spell the name precisely. Jenny McGee returns zero. Jennifer McGee returns a nurse registered in SE London (Guy's hospital is in SE1 I think). Her expiry date suggests she's on a temporary registration so would fit with a NZ nurse. The NMC search for Luis Paterma isn't even shown with the same spelling as it was written in the article so unlikely to get a hit from the search (neither spelling does though – but that doesn't mean Luis/Louis/Lewis doesn't exist)."   ]
The story is that Boris was in ICU for a period of time – but only on oxygen, not on a ventilator. This is unusual – as oxygen can be given at almost any hospital bed.
In a story about Bo Jo's recovery https://www.chroniclelive.co.uk/news/world-news/boris-johnson-nurse-jenny-mcgee-18083927 two nurses were named – Luis Pitarma from Portugal and Jenny McGee from New Zealand. But neither of the named nurses that looked after him are listed on the NMC register (see below), oddly enough. My wife who is a registered nurse explained that because they are non-EU workers, it's possible they might not be registered with the NMC. Also, some EU nurses have some arrangement for working through the RCN (Royal College of Nurses) – but "what are the chances…." of Bo Jo being looked after by 2 of them?
https://www.nmc.org.uk/registration/search-the-register/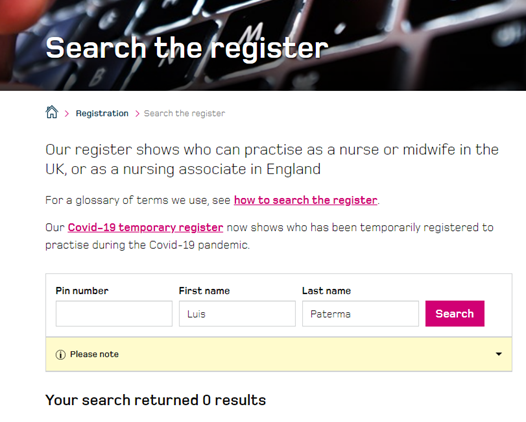 Positive Disinformation
I've received a number different emails/links – similar to those in the last update about "good things" that are happening behind the scenes. Here are a couple more short videos etc. Presently, I have not really seen any credible evidence that shows these stories are true.
Soros, Bush and Obama Arrested? (2 mins)
Again, the guy sounds confident and gives some specific details of places etc, but this isn't enough to convince me, currently (I heard similar stories back in 2008).
Soros, Bush and Obama Arrested? (2 mins)
Again, the guy sounds confident and gives some specific details of places etc, but this isn't enough to convince me, currently (I heard similar stories back in 2008).
[Update – this story appears to be over a year old – and features an obviously doctored image!]
Soros Arrested: Bush Pleads Guilty To 9/11 – Obama Begs For His Life
US Surgeon General "Dumps Bill Gates Narrative"? (5:33)
A video by Rashid Buttar talks about this article:https://madhousenews.com/2020/04/u-s-surgeon-general-adams-dumps-bill-gates-who-cdc-predictive-contagion-model/
which claims that the US Surgeon General has dumped the "Bill Gates CDC Contagion Model" and that this is a huge positive development. However, if you listen the 18 minute radio interview. https://soundcloud.com/breitbart/breitbart-news-daily-dr-jerome-adams-surgeon-general-april-13-2020, this is not what comes through.  I listened to this and I couldn't hear any differences to the standard narrative. All I noticed were remarks saying they might open up some stuff in May (same as they are saying here)… There was no mention of Bill Gates – and he was promoting the standard narrative about vaccines, so the above article and video is disinformation, it seems.
===
Look at "Recent Posts" on the website : https://www.checktheevidence.com/wordpress/category/news/
Follow on Facebook: https://www.facebook.com/Check-The-Evidence-772857093052741/
Follow on Twitter: https://twitter.com/check_evidence
Follow on Linked in: https://www.linkedin.com/in/andrew-johnson-a1487b19/
Or if you don't use social media, you can use an RSS reader and use the link on the http://www.checktheevidence.com/wordpress site for RSS