Blind Joe, A good guy comes forward…? Myocarditis Censorship, UK – Zantac medication, Ivermectin Video Diary and more
Blind Joe – "I Will Not Comply"
He's got the right rhythm!
https://www.youtube.com/watch?v=sqdXJIrMuLA
Shadow Government: Databanks Expose Global Evil and Corruption Says French Billionaire
https://www.bitchute.com/video/LvkOqRqKjNdm/
Mirrored From: https://rumble.com/vnlodz-shadow-government-databanks-expose-global-evil-and-corruption-says-french-b.html
Philippe Argillier says he has four databanks that will expose 38 individuals that run the "shadow government", responsible for the CREATION OF COVID-19, which took place YEARS AGO!
More info on Mr Argillier: https://humanrightsunity.com/philippe-argillier/
Critical Peer-Reviewed Study on Myocarditis "Temporarily Removed"
https://uncoverdc.com/2021/10/18/critical-peer-reviewed-study-on-myocarditis-temporarily-removed/
By Michelle Edwards -October 18, 2021
A recent PUBMED study by Dr. Peter McCullough used data from the Vaccine Adverse Events Reports System (VAERS) to examine cardiac adverse events (AEs)—specifically myocarditis—following the injection of the first or second dose of one of the three experimental COVID-19 "vaccines" currently being administered under emergency use authorization (EUA) in an "unprecedented fashion." The study revealed it is safe to assume the reporting of heart-related complications, including myocarditis, in VAERS is not rare, but instead, just the "tip of the iceberg."
https://twitter.com/RWMaloneMD/status/1449142757335863297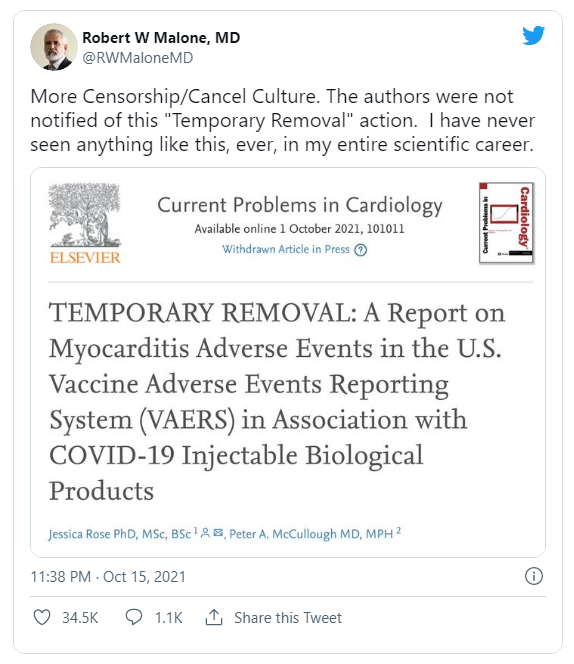 UK – Zantac recall September 2019 to March 2020
https://cvpandemicinvestigation.com/zantac-recall-september-2019-to-march-2020/
I received this from an anonymous reader.
Andrew, hello
I noted with interest recently the complete unavailability of the common, OTC indigestion relief medication, commonly known as zantac 75mg, which used to be sold in Tesco, Spar and others in generic form for around £1 for a pack.
I have searched and note that it's totally unavailable whether OTC or by prescription and on investigation also noted a complete recall by MHRA of all stock, starting in September 2019 to April 2020, coinciding with covid lockdown scare from March onwards.
I also then noted looking further that as an H2 receptor blocker, it appears successful in early covid symptom relief, reducing the risk of cytokine storm or related inflammatory damage, as well as treatment for the suggested condition long covid.
They claim there was a 'risk' that stock 'may' have been slightly contaminated with a chemical that may cause cancer, hence the recall, however it appears it was unlikely to be a major risk and that patients should talk to doctor about alternatives; then all stock was withdrawn and patients moved over to it seems other non h2 blocker drugs ie omeprazole.
NHS advice was as below (from attached)
"There is no current advice for patients to stop taking ranitidine that is already dispensed to them, as there have been NO patient level recalls. If you receive queries about this issue from patients, advise them not to stop taking their medication as the health risk of discontinuing the medicine is higher than the potential risk presented by the contaminant."
Within the attached document (SDA 2019) from UK government I note the following statement
"It is recommended that, where possible, patients are not switched to an alternative H2-receptor antagonist in the first instance as this may exacerbate a shortage of these products. There are currently sufficient supplies of oral omeprazole to manage an increase in demand."
I am deeply suspicious about the timings and motives here, especially given that the drug never reappeared as new 'clean' batches, it seems they simply stopped production; in fact in Europe it seems the licence to produce more was suspended thereafter, which again appears strange as from what I can make out NHS was able to buy in generic 75mg packs at under 36p and the government were aware of a potential shortage of h2 type medicines.
I attach relevant papers,
My opinion, 'I smell a rat' as the saying goes, something wrong again I suspect, after all the planning, they couldn't have a cheap antacid inadvertently reducing the covid hospitalizations?!
Regards
GR
MHRA-Zantac-EL__19_A_24_Final.pdf

gutjnl-2020-321852.pdf

Ranitidine-out-of-stock-FINAL1.pdf

main-h2-blocker.pdf

zantac-SDA-2019-005U2.pdf

h2-Bookshelf_NBK547929.pdf

H2-2021.06.06.21258272v1.full_.pdf
FDA – Further Innova Rapid Flow Test Recall
https://www.fda.gov/medical-devices/medical-device-recalls/innova-medical-group-recalls-unauthorized-sars-cov-2-antigen-rapid-qualitative-test-risk-false-test
The FDA has identified this as a Class I recall, the most serious type of recall. Use of these devices may cause serious injuries or death.
Ivermectin Video Diary
This lady recorded her positive experiences with the medication – over several days.
https://rumble.com/vmw4sf-recovery-woman-shares-her-incredible-ivermectin-journey.html
PUB's Three Notice Process To Stop Employers Mandating Vaxxes
Perhaps some may find this useful.
https://www.thebernician.net/pubs-three-notice-process-to-stop-employers-mandating-vaxxes/
UK – Protecting Public Health – By Damaging It
From Mark Conlon:
https://assets.publishing.service.gov.uk/government/uploads/system/uploads/attachment_data/file/1019992/Vaccine_surveillance_report_-_week_38.pdf
The "official" Government website, people over 80 years old who have been double jabbed shows that 7 times more people have died than those who are unjabbed according to "official" data figures week 34 to week 37, 2012 document. 198 died unjabbed compared to 1272 who were double jabbed. Check out the 60 to 69 year olds, and 70 to 79 year olds also. Yet pretty equal with 50 to 59 year olds. Yet the jab is being sold as a success. No doubt for those making all the money from them.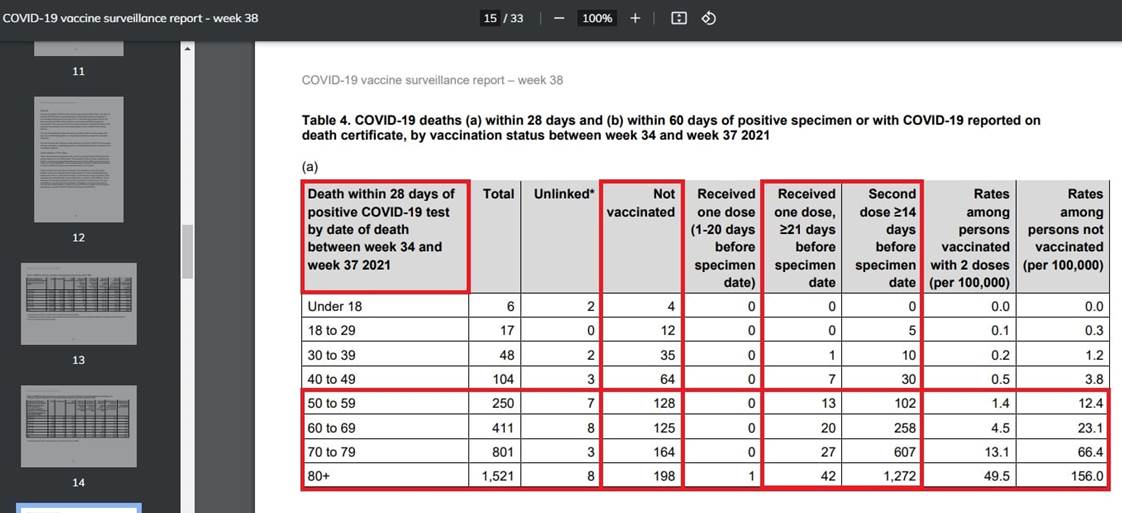 I like the use of the word "Surveillance" rather than "monitoring" or "statistics" etc. And remember all stats such as these are based on a test which does not work!
Librarians and Other Workers in Canada Rise Up
Rosemary Frei documents the latest action there.
https://www.rosemaryfrei.ca/librarians-rising-up/
The Vanden Bossche Caper Continues
Whilst I quoted Robert Malone above, this was just in relation to another example of censorship. Here, Rosemary Frei studies how he's helping to create more fear about the threat of variants and mutations etc – for which there is little to no evidence.
https://www.rosemaryfrei.ca/the-vanden-bossche-caper-continues/
I exposed Geert Vanden Bossche's disinformation campaign in a March 16, 2021, article. Unfortunately, he continues to fear-monger, with the active support of high-profile leaders in the Covid-sceptic community. One of the latest examples is the September 25 interview in which he teamed up with Robert Malone.
They sound confident as they give their acronym-laced assertions — with zero solid citations to back up them up. In addition, the interviewer Philip McMillan asks only softball questions to these "Covid-19 giants."