Young People Die in England Wales Post Jab, Vaxxer Rap, Vaxxed get AIDS-like Symptoms, NY Judge Grants Jab Injunction, Dr Stefan Lanka
Recent deaths in young people in England and Wales
Remember, it's nothing to do with jabbing. Probably just people getting depressed at having to restart school – and of course that has nothing to do with what has been done to the children in the last 18 months either….
https://www.hartgroup.org/recent-deaths-in-young-people-in-england-and-wales/
Vaxxer and Truther Rap
This is very well written and succinct – not a word is wasted! Thanks to Martin Noakes for sending it and helping to produce it! It was originally here:
https://www.youtube.com/watch?v=_3oOXnO61yk
but now we have to use this link:
https://brandnewtube.com/watch/vaxxer-vs-truther-rap-battle_qo2y1f2IrlcLbBs.html
The video of the speaker talking about the Israel situation was also removed since the last posting and so you can find it here.
https://brandnewtube.com/watch/how-israeli-ministry-of-health-deleted-thousands-of-testimonies-on-covid-quot-vaccines-quot-side-e_e4jgetevxlcdzqx.html?
Natural immunity vs. Vaccine-induced immunity: the issue that terrifies the pro-vaxx mafia
by Jon Rappoport, October 11, 2021
This article https://blog.nomorefakenews.com/2021/10/11/natural-immunity-vs-vaccine-induced-immunity-that-terrifies-pro-vaxx-mafia/  concludes:
It would not surprise me at all if it turned out that 80-90 percent of the population—subjected to testing and re-testing—at one time or another qualified as COVID cases—and recovered nicely or were never sick in the first place…AND THEREFORE HAVE NO NEED FOR A VACCINE.
—And that concludes today's episode of Lunatics on the Loose inside the Mad Mad World Where People Believe the Virus is Real and the Vaccine is Relevant and Necessary. As I say, I make forays into that world to demonstrate the contradictions and lies the liars are spouting, even on their own terms.
The liars are no more reliable than drunks in a bar at 2AM.
However, they're a lot more dangerous.
A comparison of official Government reports suggest the Fully Vaccinated are developing Acquired Immunodeficiency Syndrome
By The Exposé On October 10, 2021
Latest UK PHE Vaccine Surveillance Report figures on Covid cases show that doubly vaccinated 40-70 year olds have lost 40% of their immune system capability compared to unvaccinated people. Their immune systems are deteriorating at around 5% per week (between 2.7% and 8.7%). If this continues then 30-50 year olds will have 100% immune system degradation, zero viral defence by Christmas and all doubly vaccinated people over 30 will have lost their immune systems by March next year.
https://theexpose.uk/2021/10/10/comparison-reports-proves-vaccinated-developing-ade/
Judge Hands NY Health Care Huge Victory – Grants Injunction Against COVID Vaccine
https://www.redvoicemedia.com/2021/10/judge-hands-ny-health-care-huge-victory-grants-injunction-against-covid-vaccine/
A federal judge in Utica gave seventeen New York health care workers a huge victory after they objected to the state's vaccine mandate for health workers on religious grounds.
ABC7 reported that Judge David Hurd granted their request for an injunction that stops the state from enforcing the policy for those who claim a religion-based objection.
A Dr Mike Yeadon Lookalike (and sound-alike)?
I was sent this:
I noticed something on this short clip mirrored on the Sheep Farm Studios channel that feels very creepy to me. The character at 1:00 min mark pushing the MSM version of the 'pandemic' is uncannily like Dr Michael Yeadon, they seem to me have selected this guy for that very reason. To me he looks very similar, same tone of voice, same way of speaking, mannerisms, same hairstyle. It's almost as if he's practiced doing an impersonation of Michael Yeadon. I wouldn't put anything past the satanic scum who are carrying this hoax off to do this sort of thing.
https://www.youtube.com/watch?v=bdb6XdQF2L0&lc
Who Owns the World? Tim Gielen Documentary (1 hour)
I thought I had included this is an earlier posting, but it appears I hadn't… The earliest posting I can find of it is 25th Sept 2021.
https://rumble.com/vmyx1n-monopoly-who-owns-the-world-documentary-by-tim-gielen.html
A 2nd one, on the same channel is on Oct 1st
https://rumble.com/vn7lf5-monopoly-who-owns-the-world-must-see.html
Further postings are linked here:
https://nexusnewsfeed.com/article/geopolitics/monopoly-who-owns-the-world/
I am not sure who Tim Gielen is, but the documentary is linked to this site, it seems: https://www.stopworldcontrol.com/about/
Blame the Unjabbed – The Next Big Step…?
"Evil is as evil does…"
US Treasury deputy sec warns unvaxxed Americans that shortages will continue until EVERYONE is jabbed
15 Oct, 2021
https://www.rt.com/usa/537637-supply-chain-covid-unvaccinated-biden/
The deputy secretary at the US Treasury has put Americans on notice that the only way to end the plague of empty shelves around the country is for every resident to be vaccinated. The frank warning came off as a threat to many.
Wally Adeyemo, the Biden administration's second-highest official in the Treasury Department, appeared to publicly blackmail the still-sizable portion of Americans who have not been vaccinated against Covid-19 during a Thursday ABC interview, seemingly blaming them for the ongoing shortages of consumer goods that have led many to mock the president as 'Empty Shelves Joe'.
Despite viral photos depicting thousands of cargo ships lined up at the Port of Los Angeles ready to unload their goods, Adeyemo claimed that the supply chain issues plaguing so many US retailers are an international issue and will only let up when a sufficient percentage of the country has been vaccinated. …
"The reality is that the only way we're going to get to a place where we work through this transition is if everyone in America and everyone around the world gets vaccinated."
Short Interview with Dr Stefan Lanka
I wish this discussion was a little more focused and the recording was a little better (slight camera shake, audio slightly out of synch), but the content may be useful for some. I could not find the letter that Dr Lanka refers to at the end, but the website of the producer (IRF Films) is: https://www.immunity.org.uk/
https://www.youtube.com/watch?v=xYPdC9m7jWE
The Revolving Door Syndrome
Happens in pharmaceuticals and other big businesses…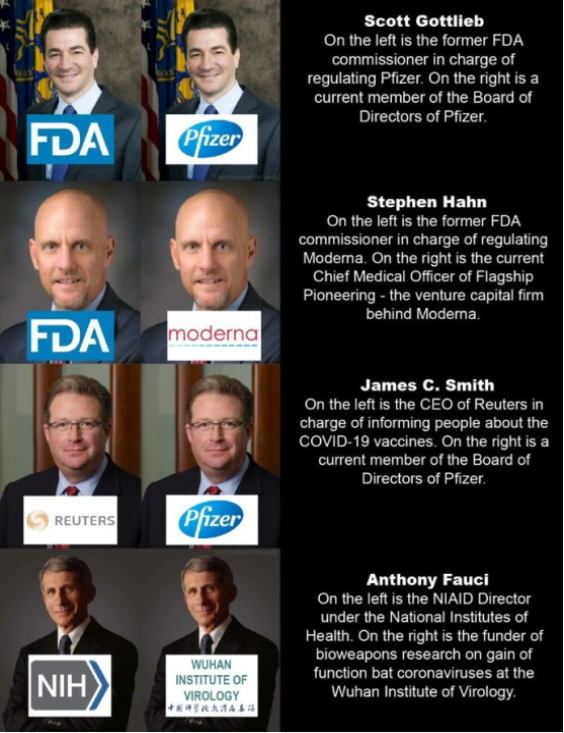 ===
Look at "Recent Posts" on the website : https://www.checktheevidence.com/wordpress/category/news/
Follow on Facebook: https://www.facebook.com/Check-The-Evidence-772857093052741/
Follow on Twitter: https://twitter.com/check_evidence
Or if you don't use social media, you can use an RSS reader and use the link on the http://www.checktheevidence.com/wordpress site for RSS