Recently, I decided to submit complaints to these bodies, using the links below. It was necessary to submit a complaint to the BBC before I could send one to Ofcom. You could consider doing something similar, especially if you are in the UK. Use the links below:
Complaints submission pages:
https://www.bbc.co.uk/contact/complaints
https://ofcomforms.secure.force.com/formentry/SitesFormBBCIntroductory?complaintType=SitesFormBBCGeneralProcedures
The ASA don't seem to take an email address, name or any contact details at:
https://www.asa.org.uk/make-a-complaint/quick-report.html
Introduction
Apologies for the length of this document/complaint, but it is necessary to give you enough information to back up the main claim.
Regarding the NHS "Mask" adverts, which I think started running around January 23rd
https://www.youtube.com/watch?v=ja_RVHUmOQA
These adverts are psychologically distressing and, if you study the information included in this document fully, you will find that the basis for these adverts is unfounded – and that in can be strongly and cogently argued that they are simply a pre-meditated attempt to scare the British public (see Appendix 2) into compliance with unlawful measures  passed, based on little or no real scientific evidence. You will not be able to determine the truth of this statement without studying the available evidence – some of which  is referenced below.
Now that we can review the overall 2020 figures for "all cause mortality", we can confidently say that there was no pandemic in England and Wales. UK Total death figures for 2020 certainly show a lot more deaths than 2019, but at 605,000 deaths approx, that represents about 1% of the total population. If you go back and check the figures from 2008 and 2000, you will find a little over 1% of the population died in those  years. There were no restrictions then – and no mass vaccinations either. More details are contained in the attached spreadsheet and in the video below.
[EDIT – This link is a better reference: https://www.ons.gov.uk/aboutus/transparencyandgovernance/freedomofinformationfoi/deathsintheukfrom1990to2020]
https://youtu.be/_zIQEqgRK00  (11 mins)
Indeed, Dr Chris Whitty, at one of the Government's COVID briefings on the 11 May 2020 told the truth, when he stated:
The great majority of the population won't die from this. A proportion of the population won't get the virus at all. Of those who get symptoms – 80% are mild or moderate. Even the very highest risk groups, the great majority, if they catch this virus, will not die.
Below, I will now provide more evidence, deserving a thorough and complete review, which fundamentally challenges and refutes all the main elements of the government and media's pandemic narrative. Before that, please note that the WHO essentially changed the definition of a "pandemic" sometime in 2009 – in relation to the alleged "Swine Flu" pandemic (in which 457 UK people died). This was mentioned  in a  March 2010 Channel 4 news – broadcast, which has some all too-familiar elements in it:
https://www.youtube.com/watch?v=q9qeLcq3y8w   (3 mins 32 secs)
I have already written to many people and explained  and sent them independent reports, available here: https://cvpandemicinvestigation.com/ . One report has about 2000 signatories, including some from health workers – this lays bare how the mainstream pandemic narrative is fraudulent and deceptive.
I should not need to explain the implications of the refutation of the mainstream media narrative, nor should I need to further justify ALL COVID-19 advertising should be halted immediately (because there is and was no pandemic). Again, this can only be understood by studying the available evidence – rather than listening to the spin and misrepresentation of it that is now all-pervasive and inescapable, it seems.
I've already complained to the BBC (see Appendix 1) and to OFCOM (where I used more or less the same text you read here).
Treatment of COVID Symptoms
One of the most egregious misrepresentations of evidence is in relation to the ridicule what is and was a safe (for most people) and effective treatment for COVID symptoms. Some Doctors started using this in February 2020, when people became ill. This treatment was then suppressed, ridiculed, attacked and so on. That was done, mostly, because of this retracted paper.
https://www.thelancet.com/journals/lancet/article/PIIS0140-6736(20)31180-6/fulltext
This retraction was either poorly reported on, or not reported at all.
World Doctors Alliance
There are several groups, now, like the World Doctors Alliance. They published an Open Letter which I mentioned in my complaint. The BBC replied that they had talked about "The Great Barrington Declaration" – perhaps because the people behind this initiative don't really challenge the underlying "virus pandemic" narrative in the same way the WDA does. The BBC have not covered the WDA, nor have they adequately covered the evidence and topics listed in the WDA's Open Letter.
https://worlddoctorsalliance.com/ims/WDAOpenLetter.pdf
Isolation of SARS-COV2 Virus
The SARS-COV2 virus has never been isolated and there is no proof that it causes COVID-19. (This is not the same as saying that no people have fallen ill with 'something' then died.)
https://www.fluoridefreepeel.ca/health-canada-has-no-record-of-covid-19-virus-isolation/  (don't be put off by the URL – this page contains links to documents and so forth – showing that the virus has never been isolated.)
PCR Testing and Cases
The term(s) "COVID case" has been redefined by the BBC and the government to mean "a positive PCR test result." The figures used don't take into account:
whether the result is from a person tested more than once.

whether the person has any symptoms

whether the person is/was ill and/or ill enough to have to stay in hospital
Recovery from any symptoms is also not taken into account in most of the discussion about figures
The PCR tests don't work for the purpose they have been used for and don't detect anything meaningful (hence all the contradictory results with them and other tests).
https://youtu.be/ROfUYTcagVE (6 mins)
The inventor of the PCR test, Kary B Mullis, stated clearly that the test cannot be used to determine if "something is going to hurt you."
This is also noted in a paper by Dr Mike Yeadon and others entitled: "External peer review of the RTPCR test to detect SARS-CoV-2 reveals 10 major scientific flaws at the molecular and methodological level: consequences for false positive results."
https://cormandrostenreview.com/report/
Even the WHO has more recently stated the PCR testing should be used with caution – for example, the symptoms of those being tested should be noted (now there's a "new" idea…)
https://www.who.int/news/item/14-12-2020-who-information-notice-for-ivd-users
UK Govt "Case Counts"
If you look at the UK Govt's data on the tests, you will find that the overall number of "positive results" (which aren't "cases" at all – as symptoms and illness are not logged with the test results), you will find that what is shown is well inline with the government's own published data on false positive result rates. Use the links below to establish this for yourself.
https://coronavirus.data.gov.uk/details/testing 
https://coronavirus.data.gov.uk/details/cases
(divide the number of positives by the number of tests). About 4% of tests in the UK have come out positive, which is broadly inline with figures noted in this document.
https://assets.publishing.service.gov.uk/government/uploads/system/uploads/attachment_data/file/895843/S0519_Impact_of_false_positives_and_negatives.pdf
These results, then, prove nothing.
Masks
As you should be aware, the "story" on masks changed sometime in April or May 2020 and use of them has been detrimentally (and unlawfully, in some cases) enforced or encouraged.
Matt Hancock – 24 April 2020 – Online Interview – "The evidence for the use of masks by the general public – especially outdoors – is extremely weak…"
Government Briefing Statement on 24 April 2020 – "The evidence on facemasks has always been quite variable… quite weak, quite difficult to know and there's no real trials on it."
Chris Whitty – 4 March – "In terms of wearing a mask, if you don't have an infection really reduces the risks… almost not at all…"
28 April 2020 – Government Briefing – "The recommendation from SAGE is completely clear – which is that there is weak evidence of a small effect in which a face mask can prevent a source of infection going from someone who is infected to the people around them."
WHO Says Don't Wear Masks When Exercising
"People should NOT wear masks when exercising as masks may reduce the ability to breathe comfortably."
https://www.who.int/images/default-source/health-topics/coronavirus/myth-busters/mythbuster—masks-and-exercise.png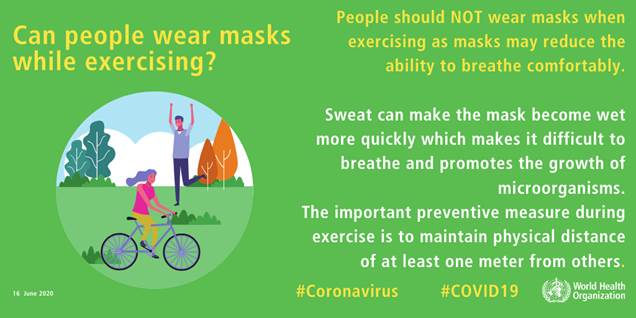 Danish Study (2020) Masks Don't Work in Protecting against spread of COVID
https://www.acpjournals.org/doi/10.7326/M20-6817
This agrees with the studies from the last 40 years which have shown that the wearing of masks by healthy people has no effect on the spread of disease (which, as noted above, is what the politicians/advisors themselves were saying until about mid-2020).
Infectiousness
There no evidence that the disease can be spread by healthy people. At least one WHO official is on record stating this.
WHO Says Asymptomatic Carriers Aren't Infectious
https://www.forbes.com/sites/mattperez/2020/06/08/who-says-asymptomatic-spread-of-coronavirus-very-rare-but-experts-raise-questions/
"Comprehensive studies on transmission from asymptomatic individuals are difficult to conduct, but the available evidence from contact tracing reported by Member States suggests that asymptomatically-infected individuals are much less likely to transmit the virus than those who develop symptoms," Van Kerkhove later tweeted.
Disease is not infectious for long (Wuhan Study)
A large study in Wuhan of 10 million people showed almost no infection:
https://www.nature.com/articles/s41467-020-19802-w
Stringent COVID-19 control measures were imposed in Wuhan between January 23 and April 8, 2020. Estimates of the prevalence of infection following the release of restrictions could inform post-lockdown pandemic management. Here, we describe a city-wide SARS-CoV-2 nucleic acid screening programme between May 14 and June 1, 2020 in Wuhan. All city residents aged six years or older were eligible and 9,899,828 (92.9%) participated. No new symptomatic cases and 300 asymptomatic cases (detection rate 0.303/10,000, 95% CI 0.270–0.339/10,000) were identified. There were no positive tests amongst 1,174 close contacts of asymptomatic cases. 107 of 34,424 previously recovered COVID-19 patients tested positive again (re-positive rate 0.31%, 95% CI 0.423–0.574%). The prevalence of SARS-CoV-2 infection in Wuhan was therefore very low five to eight weeks after the end of lockdown.
Lockdowns and Contact Tracing
WHO has said that neither should be used.
https://www.abc.net.au/news/2020-10-12/world-health-organization-coronavirus-lockdown-advice/12753688
https://twitter.com/spectator/status/1314573157827858434
WHO says Contact Tracing Should Not Be Used
https://apps.who.int/iris/bitstream/handle/10665/329438/9789241516839-eng.pdf#page=9
Vaccine(s)
In the circles I communicate in, serious concerns have been raised about the so-called vaccine (it is not a vaccine in strictest sense – it is an experimental therapy).
What are we to think of celebrities, rather than health or immunology experts, being asked to promote vaccination?
https://youtu.be/8kHYUq0_0YQ  (1 min 30 sec)
But according to a response from the MHRA, the Pfizer vaccine has not been developed to target the actual virus itself, but a "synthesised" part of it.
Researcher Frances Leader wrote to the MHRA to ask for details about the vaccine. She was sent these 2 links, as shown on the page below:
https://assets.publishing.service.gov.uk/government/uploads/system/uploads/attachment_data/file/944544/COVID-19_mRNA_Vaccine_BNT162b2__UKPAR___PFIZER_BIONTECH__15Dec2020.pdf
https://www.gov.uk/government/news/uk-medicines-regulator-gives-approval-for-first-uk-covid-19-vaccine
=====
MHRA Customer Services MHRACustomerServices@mhra.gov.uk
Mon 21f12/2020 10:46
To: You
Our reference: 050 23485
Dear Frances Leader,
Just to add some further information:
The DNA template(severe acute respiratory syndrome coronavirus 2, GenBank: MN908947.3)  was generated via a combination of gene synthesis and recombinant DNA technology.
Should you require any further advice or assistance on this matter please feel free to call us on 0203 080 6000 or reply to this email.
Our opening hours are Mon — Fri 9am to 5pm (excluding UK Public Holidays)
With regards
===========
Also note this: https://www.gov.uk/government/publications/regulatory-approval-of-pfizer-biontech-vaccine-for-covid-19/information-for-uk-recipients-on-pfizerbiontech-covid-19-vaccine
As with any vaccine, COVID-19 mRNA Vaccine BNT162b2 may not fully protect all those who receive it. No data are currently available in individuals with a weakened immune system or who are taking chronic treatment that suppresses or prevents immune responses.
Dr Vernon Coleman has catalogued some of the accounts relating to adverse reaction to the vaccine (including death):
https://www.vernoncoleman.com/vaccineskilling7.htm
This is also noted in the UK Government's own figures:
UK Govt – Name: COVID-19 mRNA Pfizer- BioNTech vaccine analysis print
https://assets.publishing.service.gov.uk/government/uploads/system/uploads/attachment_data/file/958616/COVID-19_mRNA_Pfizer-_BioNTech_Vaccine_Analysis_Print.pdf
Report Run Date: 11-Feb-2021
Near end of document : "TOTAL REACTIONS FOR DRUG       59614              Fatal: 107"
This document is seemingly being updated appox. every 2 weeks.
UK Medical Freedom Alliance
They have produced a document related to the vaccinations given in care homes:
Lots of figures and graphs –
https://www.ukmedfreedom.org/resources/covid-19-vaccine-info#Open-Letters
https://uploads-ssl.webflow.com/5fa5866942937a4d73918723/601ffc3e56a64132caa3f42f_Open_Letter_from_the_UKMFA_Vaccine_Deaths_Care%20Homes.pdf
Care Home Whistleblower
This person explains the terrible situations in care homes – and how people are prevented from acting – because they have, essentially, become "Agents of the State" and as such aren't allowed to act independently, if they want to keep their jobs. This has, undoubtedly caused misery and death (although the whistleblower doesn't overtly state that). Also mentioned are the contradictory and unreliable test results (which I gave evidence of, above).
https://www.youtube.com/watch?v=nKSIPzJpjj0
As mentioned above, the vaccine isn't really a vaccine. In the past, producers of alternative health products and practitioners have been fined or sanctioned for misleading labelling or description. Pfizer and Moderna should be similarly sanctioned. In the US Dr Simone Gold points out that it is an "experimental biological agent." To call it a vaccine is misleading.
https://youtu.be/74YtOsSKzw4 (5 mins)
It appears that in some places, people have been forcibly vaccinated:
https://www.bitchute.com/video/DZg1pkYNvaPO/
Summary
VACCINE side effects: Many people are concerned with growing reports of people falling ill and even death after a vaccine. Experts claim this is a predictable outcome and can actually be a good thing. What exactly happens to the body when vaccinated and why is being ill after good?"
Following my collation of the evidence into reports and my submission of same to various bodies and people, I have received no corrections, so as far as I know, I have presented a "true and accurate picture" of the so-called pandemic.
So, what will you do? What is more important to you, evidence and truth – or being a soul-less "agent of the state?" Has your capacity for using logic and reason been compromised by 24/7  TV and radio brainwashing (find out how much the Govt. budgeted in April 2020 for "COVID" advertising. Also find out what happened in Oct 2019 in a "Pandemic tabletop exercise hosted by The Johns Hopkins Center for Health Security.) Perhaps part of the true agenda was revealed on 11 Sep 2020.
Yours Sincerely,
Andrew Johnson, BSc
Appendix 1
Complaint and Autoresponse
YOUR COMPLAINT:
Role in Suppressing Public Health Information
Dear Sirs
Since approximately March 2020, the BBC has been involved in a concerted effort to suppress information relating to public health. The BBC and the government maintain that there is "Corona Virus" pandemic – and have repeatedly suppressed, denied, ridiculed and censored information which shows these claims are wildly exaggerated or just untrue. Easily available information in scientific journals and on the UK government's own websites calls into question ALL the primary claims of a pandemic.
Here, I briefly list evidence suppressed by the BBC and others. The result has been enormous misery, mass fear, damage to health and even fatalities.
TESTING – FALSE POSITIVES
PCR tests cannot be verified for accuracy as there is no 'gold standard' against which to check them. The virus has not been purified. (1)
PCR tests cannot detect viral loads and are prone to false positives.
HYDROXYCHLOROQUINE
The controversial drug Hydroxychloroquine (HCQ) has been unfairly smeared, by the WHO, CDC, NIH and the media.
However HCQ has very firm support from, amongst others: Professor Harvey Risch epidemiologist from Yale, The American Association of Physicians and Surgeons (AAPS), American Frontline Doctors, the Henry Ford Health System and Professor Didier Raoult microbiologist and infectious disease specialist – to name but a few.
VACCINE
A rushed vaccine is clearly not in the public's best interest
Indemnifying vaccine manufacturers against all liability is also clearly not in the public's best interest
These points are taken from an Open Letter on the World Doctors Alliance Website, signed by over 70,000 people.
https://worlddoctorsalliance.com/
I have compiled independent reports, available here: https://cvpandemicinvestigation.com/. One report has about 2000 signatories, including health workers.
The evidence in the report shows the BBC has been an accessory to various crimes. I am writing to OFCOM to request the broadcast licence be revoked.
Andrew Johnson
———-
———- Original Message ———-
From: BBC Complaints <bbc_complaints_website@contact.bbc.co.uk>
To: Andrew Johnson <ad.johnson@ntlworld.com>
Date: 01 February 2021 at 22:00
Subject: BBC Complaints – Case number CAS-6525597-B9Z0F7
Thanks for contacting the BBC. This is to confirm we've received the attached complaint sent in this name. We've included the text of the complaint and a case reference for your records (see below).
Our normal aim is to reply at this stage within 10 working days (two weeks), but we hope you will understand that sometimes we are unable to respond by then. We will let you know beforehand if we think it may take us longer.
We'll normally include your complaint in our overnight report to producers and management. This will circulate your and all complaints with other reaction we receive today (but with any personal details removed) so it will then be available for the right team to read tomorrow morning.
For full details of our complaints process please visit: https://www.bbc.co.uk/contact/how-we-handle-your-complaint. Please don't reply to this email because it's an automated acknowledgement sent from an account which can't receive replies. If you do need to get in touch, please use our webform instead at www.bbc.co.uk/complaints, quoting your reference number.
Here are the details of your complaint (above):
Thank you again for contacting us,
BBC Complaints Team
www.bbc.co.uk/complaints
Please note: this email is sent from an unmonitored address so please don't reply. If necessary please contact us through our webform (please include your case reference number).
BBC Response to Complaint
———- Original Message ———-
From: BBC Complaints <bbc_complaints_website@contact.bbc.co.uk>
To: Andrew Johnson <ad.johnson@ntlworld.com>
Date: 02 February 2021 at 15:33
Subject: BBC Complaints – Case number CAS-6525597-B9Z0F7
Reference CAS-6525597-B9Z0F7
Dear Mr Johnson,
Thank you for contacting us regarding BBC News output relating to the COVID-19 pandemic.
We are committed to achieving due impartiality in all of our output and reflecting a wide range of subject matter and perspectives across our output as a whole.
BBC News has scrutinised the approach being taken by the UK and devolved governments across our programming. Throughout the pandemic we have featured a broad range of contributors with scientific, medical and political experience and expertise who we believe could add insight and value to our coverage, and whose views we have examined and challenged on behalf of our audience.
Our coverage has included hearing from contributors who have alternative views on how to handle the pandemic, such as Lord Jonathan Sumption, Sunetra Guptra and Steve Baker, who is one of a group of Conservative MPs regularly scrutinising and challenging the current Covid restrictions. We have reported on the Great Barrington Declaration, for example at:
https://www.bbc.co.uk/news/health-54442386
And taken a look at the effects of lockdown on the economy, for example at:
https://www.bbc.co.uk/news/business-55673183
https://www.bbc.co.uk/news/business-54543654
https://www.bbc.co.uk/news/business-55336397
We don't agree that our coverage has been sensationalist or scaremongering. We have a responsibility to accurately reflect the reality of the situation and we believe we have done so accurately and impartially.
All that being said your feedback is very important to us. As such, we have noted your comments and logged them on our daily audience feedback report to be circulated for viewing around BBC senior management, the news handling team, and the other relevant production teams.
This report is one of the most highly read sources of audience feedback in the BBC and ensures your views will be shared with the right people quickly.
Thanks again for taking the time to get in touch.
Kind regards,
Abbie Crawford.
BBC Complaints Team
www.bbc.co.uk/complaints

Please note: this email is sent from an unmonitored address so please don't reply. If necessary please contact us through our webform (please include your case reference number).
Hence, once you have studied all this, if you are an honest person, you should remove your page and note that there is no pandemic and  no need for any of the measures that have been forced on people.
Oh, and please read my report to determine how the government have been lying since March 2020. This is shown in their own documents (check all the links if you're having a hard time accepting this).
https://cvpandemicinvestigation.com/2020/09/covid-19-evidence-of-fraud-medical-malpractice-acts-of-domestic-terrorism-and-breaches-of-human-rights/
My report is supported by about 2000 people. It seems most people are dishonest – or at least, have been brainwashed by all the hype on TV, Radio, ads etc and are either unwilling or unable to see and then tell the truth. So where do you stand…? I'll leave that with you – no need to reply.
Yours Sincerely,
Andrew Johnson, BSc
Appendix 2
Paper prepared for the Scientific Advisory Group for Emergencies (SAGE).
At least one publicly available government document strongly suggests that Government Ministers and/or their advisors have committed an offence under the UK Terrorism Act. For example, in a document entitled "Options for increasing adherence to social distancing measures," dated,  22 March 2020[i] – at the bottom of page 1, we read:
Perceived threat: A substantial number of people still do not feel sufficiently personally threatened; it could be that they are reassured by the low death rate in their demographic group (8), although levels of concern may be rising (9). Having a good understanding of the risk has been found to be positively associated with adoption of COVID-19 social distancing measures in Hong Kong (10). The perceived level of personal threat needs to be increased among those who are complacent, using hard-hitting emotional messaging. To be effective this must also empower people by making clear the actions they can take to reduce the threat (11).
Later, in  a table on page 6 we see:
Use media to increase sense of personal threat
Consider enacting legislation to compel required behaviours
Consider use of social disapproval for failure to comply
It is staggering to observe that this document implies that there is a "low death rate in a given demographic group," yet considers the need to "use media to increase sense of personal threat."
Studying the language used in this document reveals an obvious theme of "scaring" or even threatening the public (to comply with recommendations – not laws) as a way of "protecting their health," rather than giving them accurate, timely information – and admitting to them that the virus is very similar to ones which are apparently responsible for other "seasonal flu" outbreaks and, as such, poses little or no extra risk to them.
Influenza Preparedness Stakeholder Conference on the Centenary of the 1918 Pandemic (How to Sell a Pandemic to the Public – in 2019)
Please also note this video, which suggests there were plans to "sell" a pandemic to the public, before it happened.
Info:
https://www.chathamhouse.org/events/all/research-event/influenza-preparedness-stakeholder-conference-centenary-1918-pandemic
You will note the presence of Prof Jonathan Van Tam in the front row.
[i] https://www.gov.uk/government/publications/options-for-increasing-adherence-to-social-distancing-measures-22-march-2020