Sweden and Switzerland – and Australia, Ozone and COVID Symptoms, Birmingham (UK) Gathering, An Austrian Speaks about Nazism
Sweden and Switzerland – and Australia
A Sky News Australia report – might be as close as we ever get to the mainstream telling the truth.
https://www.skynews.com.au/details/_6181491564001
No mention of WHO, WEF, GPMB, Gates et al… Just "Oh how terrible the Oz govt. is compared to Sweden" (the same goes for the UK Daily Telegraph). Once again, news reporting does not follow the oath used in courts "I promise to tell the truth, the whole truth and nothing but the truth…"
Ozone and COVID Symptoms
Not surprisingly (to me at least), one doctor has successfully used Ozone in treating COVID symptoms (thanks to Kathy for this info/link!)
https://www.facebook.com/DrRobertJRowen/posts/1345018172362847
Major PUBLISHED Breakthrough – Ozone found highly effective for hospitalized COVID patients. It leads to "rapid" improvement in respiratory and inflammatory parameters.
Followers of this page. I have been telling you of this since COVID began. I have treated two positive COVID patients with 10 pass ozone who got essentially total recovery of symptoms right on the treatment chair. The treatment below is rather low dose, but just look at what it did.
This "plandemic" nightmare could be over in a few weeks with the hysteria gone if medical Rulers stepped aside from patentable Pharma chemicals and vaccines, and permitted treatments that mirror and augment the body's own defenses. Please share this FAR AND WIDE.
I have 100% confidence that what ozone therapists do could save the horror of the new childhood Multisystem Inflammatory Syndrome in Children (MIS-C) associated with COVID-19, a syndrome the CDC is now warning parents about. Remember to follow the money trail to know what this is all about.
Abstract
Objective
This study evaluated the potential efficacy of a novel approach to treat COVID-19 patients, using an oxygen-ozone (O2-O3) mixture, via a process called Oxygen-Ozone- Immunoceutical Therapy. The methodology met the criteria of a novel, promising approach to treat successfully elderly COVID-19 patients, particularly when hospitalized in intensive care units (ICUs) Experimental design: We investigated the therapeutic effect of 4 cycles of O2-O3 in 50 hospitalized COVID-19 subjects suffering from acute respiratory disease syndrome (ARDS), aged more than 60 years, all males and undergoing non invasive mechanical ventilation in ICUs.
Results
Following O2-O3 treatment a significant improvement in inflammation and oxygenation indexes occurred rapidly and within the first 9 days after the treatment, despite the expected 14–20 days. A significant reduction of inflammatory and thromboembolic markers (CRP, IL-6, D-dimer) was observed. Furthermore, amelioration in the major respiratory indexes, such as respiratory and gas exchange markers (SatO2%, PaO2/FiO2 ratio), was reported.
Conclusion
Our results show that O2-O3 treatment would be a promising therapy for COVID-19 patients. It leads patients to a fast recovery from ARDS via the improvement of major respiratory indexes and blood gas parameters, following a relatively short time of dispensed forced ventilation (about one to two weeks). This study may encourage the scientific community to further investigate and evaluate the proposed method for the treatment of COVID-19 patients.
https://www.sciencedirect.com/science/article/pii/S1567576920314946
https://www.cdc.gov/mis-c/index.html
Birmingham Gathering – 15 Aug 2020
A couple of weeks ago, I was invited to speak, along with about 6 other speakers, at a "Freedom Gathering" In Birmingham, UK. I was happy to accept, although when I got there, I was asked to speak about 20 mins before I expected to be on, so had less time to collect my thoughts… I also ended up speaking for a little longer than I expected.
https://www.facebook.com/samantha.g.goody/videos/10158110187134681/
I learned earlier today that the event was covered by the UK's "Metro" news website (I don't know if it went into print). A lady called Sam Goody recorded some of the event.
https://metro.co.uk/2020/08/15/anti-maskers-protest-birmingham-citys-infection-rate-doubles-week-13133397
Amazing – they accurately quoted me! (Although it was a fairly specific quote they chose and of course they didn't mention WEF, WHO etc). And look at us! We're responsible for DOUBLING that infection rate in Brum! Criminal aren't we? Arrest us (not the Metro journalist apologists)! No one from the "Metro" came and spoke to me and my name is not mentioned in the article. However, because of what you see below: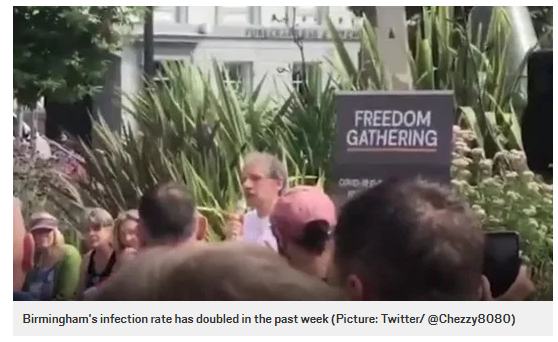 (Yes, folks, it's me…) I decided to write to the editor:
https://cvpandemicinvestigation.com/letter-to-metro-editor-re-birmingham-freedom-gathering-15-aug-2020/
I will post any response I receive later, as appropriate (I doubt she will reply).
An Austrian Speaks about Nazism
This video is of an articulate Austrian woman talking about what happened in her country when Hitler came to power. The video of her is from, I think, a few years ago (she mentions Obama in 2009, so it is after that).
The video has been edited to illustrate parallels with what is happening currently, and it is obviously deeply disturbing to consider the parallels – especially when clips of American politicians are shown.
I received this yesterday:
— Tracking Info —
The user filled the form on: https://cvpandemicinvestigation.com/contact/
The user came to your website from: https://cvpandemicinvestigation.com/contact/
Landing page on your website: https://cvpandemicinvestigation.com/wp-json/contact-form-7/v1/contact-forms/28101/feedback
IP: 24.51.61.114
Country: United States (US – NA) – Region: Nebraska(NE) – Postal Code + City:  Kearney Browser is: Mozilla/5.0 (Linux; Android 8.0.0; SM-G935V) AppleWebKit/537.36 (KHTML, like Gecko) Chrome/80.0.3987.87 Mobile Safari/537.36
===============================
From: DearGod <YourABunchOfIdiots@StopWastingPplsTime.com>
Subject: Get an education
Message Body:
Another dumb site trying to prove something doesn't exist when the rest of the developed world has struggled with something. Hilarious. I've seen kids smarter than you idiots. I'm sure you're all MGA supporters too, priceless.
Once again, no specific corrections, and not even a real name or email address – this person is, I would say, struggling to come to terms with what has been happening…
===