Non-COVID Deaths Matter Too, Deaths on the Increase following Vax, World Doctors Alliance Open Letter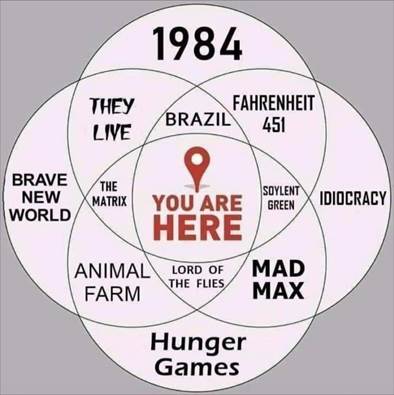 POSTERS – The only deaths that matter are COVID deaths (diagnosed with a fraudulent test).
https://cvpandemicinvestigation.com/posters-the-only-deaths-that-matter-are-covid-deaths-diagnosed-with-a-fraudulent-test/
Nick Kollerstrom – THERE IS NO PANDEMIC
https://terroronthetube.co.uk/2021/01/28/there-is-no-pandemic/
In the words of the 
Daily Mail
, 

'Terrifying new TV ads' are being promoted by the Government (23 Jan 2021) 

The above fear-porn promotion is through the US media agency Omnigov, who signed a 

£

110 million 

Lockdown advertising deal

 – on March 2nd, three weeks 
before 
the Lockdown.

The journalist Neil Clark commented

[4]

 on 'the report in the 

Daily Telegraph

 newspaper

 that the UK government struck a deal worth £119m with an American advertising company, OMD Group, urging people to 'Stay Home, Stay Safe' a full three weeks before Boris Johnson ordered a lockdown. Think about what this means.'  That meme 'Stay home Stay safe' would have been blueprinted the previous year at the US 'Event 201' by Bill Gates 

et. al.

 Fear blocks out rational, coherent thought which is why the government needs it.
Email to Dr Fiona Godlee, Editor in Chief of The BMJ, 26 January 2021 from Elizabeth Hart
Dr Godlee, I've recently submitted a rapid response to The BMJ titled: If Covid-19 vaccines don't prevent transmission, can they facilitate the evolution of more virulent variants? 
See my rapid response submission below.
Dr Godlee, I request my rapid response be published. I've been doing some further research, and this is a serious matter that must be addressed now, I want my rapid response to flag the issue.
Also Dr Godlee, I want to raise with you the apparently coordinated effort to stifle public concern about vaccination policy and practice. For example, The BMJ has published the article Too little, too late: social media companies' failure to tackle vaccine misinformation poses a real threat. The authors of this article, Claire Wardle and Eric Singerman, evidently know diddly squat about vaccines, but they are given a guernsey on The BMJ to promote their patronising and clueless blather about 'disinformation and misinformation'. I'll be having a closer look at 'First Draft News' and its potential conflicts of interest. Of course this is just the latest in the constant flow of propaganda to slur people like me who are asking legitimate questions about vaccination policy and practice. It goes along with the Royal Society and British Academy's COVID-19 vaccine deployment: Behaviour, ethics, misinformation and policy strategies report, which calls for criminal prosecution for people who dare to step across the scientific establishment's vaccine defence line. And lately in Australia a self-serving "newly formed coalition of health and technology experts is calling on the Australian Parliament to force Big Tech companies to reveal the true extent of COVID-19 misinformation". And of course others such as Heidi Larson and the Big Brother Vaccine Confidence Project organisation have been at this caper for years, joined by the likes of self-appointed censor the Center for Countering Digital Hate.
So who defines what is 'misinformation'? From my perspective there's a positive torrent of 'misinformation' about infectious diseases and vaccine products pouring forth from the medical and scientific establishment…but it goes unchecked within that morass of conflicts of interest.
The situation is very, very bad Dr Godlee. This blatant 'anti-vaxxer' tagging, and shutting down of people questioning vaccination policy and practice has to stop. The BMJ has to address this matter and stop participating in the slander via biased articles such as that produced by Claire Wardle and Eric Singerman. 
The medical/scientific establishment must be made accountable Dr Godlee, you must treat people's concerns about the medical intervention of vaccination in a professional manner. Yes, you've published many of my BMJ rapid responses over the years, but have you ever followed through on the serious matters I've raised? For example the Cochrane HPV vaccine review compromised by conflicts of interest, or the early waning of measles MDA of babies of vaccinated mothers?
This situation is beyond serious now with the current coronavirus situation. Software billionaire Bill Gates and his WEF mates, including AstraZeneca and Pfizer, are behind this 'race for coronavirus vaccines', with politicians such as Boris Johnson at Gates' beck and call. It appears no independent and objective specialists with actual expertise in infectious diseases are properly considering how to deal with this virus of murky origins, that is potentially serious in mostly elderly people with comorbidities, not the majority of the population. It's incredible there are plans to vaccinate the entire global population on Bill Gates' say-so. The so-called 'experts' have no clue about the future effects of these vaccine products, about transmission after vaccination, about evolving variants, about duration of immunity, and yet they're rushing these vaccine products out into the community, including with the threat that people will be coerced to have these experimental vaccine products, as mooted in Australia!!!
Are you thinking about this Dr Godlee?!?!? This is unprecedented, to try and vaccinate the entire global population, with a variety of fast-tracked experimental coronavirus vaccine products, that have been rushed to market under emergency authorisations, while treatments and potential preventatives such as vitamin D are suppressed…it's UNBELIEVABLE!!!!  This is a global vaccine clinical trial, do you think people have given informed consent to this massive experiment?
Dr Godlee, people need to start thinking about this….
I again request that my rapid response querying whether coronavirus vaccines can facilitate the evolution of more virulent variants be published on The BMJ, see my response below, you cannot keep shutting people out of this conversation that is vital to us all…
Elizabeth Hart
Independent person investigating the over-use of vaccine products and conflicts of interest in vaccination policy
Dr Andrew Kaufman and Dr Tom Cowan Discuss How Viruses Aren't Really Isolated
(A Response to Judy Mikovits with Tom Cowan and Andrew Kaufman)
https://lbry.tv/@DrAndrewKaufman:f/Judy–Tom-C-1-28-21-edited-compressed1:6
An interesting discussion! There was a bit of a "collision" in an earlier discussion on viruses –
53 Dead in Gibraltar in 10 Days After Experimental Pfizer mRNA COVID Injections Started
https://healthimpactnews.com/2021/53-dead-in-gibraltar-in-10-days-after-experimental-pfizer-mrna-covid-injections-started/
by Brian Shilhavy
Editor, Health Impact News
Gibraltar is a British Colony at the southern tip of the Iberian Peninsula attached to the country of Spain. It's population is just over 30,000 people, and it is best known for its huge "rock," the "Rock of Gibraltar."
I have been contacted by residents in Gibraltar stating that 53 people have died in 10 days immediately following the roll out of injections of the Pfizer mRNA COVID injections, and calling it a "massacre."
Local media reports confirm the deaths, but blame them on COVID, and not the COVID injections.
However, prior to the roll out of the injections, it is reported that only 16 people in total died "from COVID" since the beginning of the "pandemic" about a year ago.
A Kevin Rushworth reported:
Tiny Gibraltar Shines Huge Light on Vaccine Deaths
Ever since the epidemic began, sorting genuine Covid deaths from others has been a major issue. Now we have the added problem of vaccines in the mix. The UK now allegedly has the highest daily "Covid death" rate ever. Even higher than the "First Wave," in spite of the substantial degree of herd immunity that has inevitably accrued since the beginning. This atypical "Second Wave" coincides with the vaccine roll-out. Are the two connected?
Gibraltar, normally called simply "Gib," provides a very clear picture. This tiny British Colony, barely three miles long, appended to the South coast of Spain, has only 32,000 residents. It had suffered relatively little from the epidemic before the 9th January this year, with only seventeen deaths for the whole period. The death rate was well down the Deaths per Million League Table. This was not due to isolation, since Spanish workers have continued to pour into Gib every morning, and back out every evening.
Since the 9th January "Covid deaths" per million have rocketed to Third Place on the Worldometer site. Thirty-six more deaths in little over a week. What changed on the Ninth? The RAF flew in nearly 6,000 Pfizer vaccines, cooled to -70C by dry ice. They were put to use quickly to avoid the risk of degradation. Tiny Gibraltar is like a petri dish; in no other place has there been such a brutally clear relationship between vaccine roll-out and increased "Covid deaths." Local media and Government have not even referred to the obvious connection. And media elsewhere has conveniently not noticed. Yet failing to recognise that these deaths demand, at the very least, immediate investigation, requires a criminal failure of judgement.
Healthcare Worker Dies 4 Days After Second Pfizer Vaccine, Death Under Investigation
The wife of Tim Zook, a 60-year-old x-ray technician who became seriously ill hours after getting his second Pfizer vaccine and died four days later, says "we need to know the cause."
https://childrenshealthdefense.org/defender/healthcare-worker-dies-4-days-after-second-pfizer-shot/
Another posting of this story – linked in the article – is this one:
https://www.ocregister.com/2021/01/26/health-care-worker-dies-after-second-dose-of-covid-vaccine-investigations-underway/
Health care worker dies after second dose of COVID vaccine, investigations underway
'The message is, be safe, take the vaccine — but the officials need to do more research. We need to know the cause,' said the wife of Tim Zook of Orange
How Many People Are The Vaccines Killing? – Vernon Coleman MB ChB DSc FRSA
https://www.vernoncoleman.com/vaccineskilling7.htm
No one knows how many people the vaccines are killing – or how many they will kill.
But although I haven't seen the mainstream media mention most of these deaths, people have already died or been injured after being given the vaccine:
1) A 41-year-old Portuguese mother of two who worked in paediatrics died at a hospital in Porto just two days after being vaccinated against covid-19
Portuguese health worker 41 dies…
2) Norway is investigating the deaths of two nursing home residents who died after being vaccinated against covid-19
Norway investigating death of two people who…
3) Chinese health experts call to suspend the use of mRNA-based covid-19 vaccines following the deaths of 23 elderly people in Norway.
Chinese health experts call to suspend Pfizer's mRNA vaccine…
4) In Florida, U.S., a doctor died after suffering a stroke after receiving a covid-19 vaccination.
Death of Florida Doctor
5) A 32-year-old medical doctor suffered seizures and was paralysed after receiving the covid-19 vaccine.
Doctor is paralyzed after…
6) Fifty-five people have died in the U.S. after receiving covid-19 vaccines.
55 people have died in US after receiving covid-19 vaccines
7) A 46-year-old healthcare worker dies 24 hours after receiving the covid-19 vaccine but government says death is not related to the jab
A 46-year-old healthcare worker…
8) German specialists are looking into the deaths of 10 people who died after being vaccinated against covid-19
German specialists probing 10 deaths of people vaccinated against covid-19
9) Norway warns frail patients over 80 of vaccine risks after deaths
Norway warns….
10) Norway investigates 23 deaths in frail elderly patients after vaccination
Norway investigates…
11) Doctors in California call for urgent halt of moderna vaccines after many fall sick
Doctors in California…
12) Two people in India die after receiving the covid jab
Two people die…
13) Coronavirus vaccine put on hold as volunteer suffers serious adverse reaction
Coronavirus vaccine put on hold…
14) California pause some covid vaccinations after reactions
California pause some…
15) Thousands of covid vaccine injuries and 13 U.S. deaths reported
Thousands of covid…
16) Nursing home had zero covid deaths then it vaccinates…
Nursing home had zero deaths…
17) Baseball legend dies of 'undisclosed cause' 18 days after receiving covid vaccine
Baseball legend dies…
18) Woman injured by vaccine (Warning: disturbing video)
Woman injured…
19) Mother seriously injured by covid vaccine (Warning disturbing video).
Mother seriously injured
Those are just some of the possible deaths and injuries that have followed vaccination.
I have no doubt that the authorities will claim that these deaths were coincidental.
And let us remember if a patient dies within 28 days of being tested positive for coronavirus (and the test doesn't mean that the patient even has the disease since most tests are false positives) then the death will be listed as a covid-19 death and the patient will be said to have died 'with' covid-19. So by the same token, it is perfectly reasonable to say that if a patient dies or falls ill within 28 days of being vaccinated then the death or illness was related to the covid-19 vaccine.
Will the mainstream media ever start recording these deaths or illnesses? Or are journalists going to continue to promote the official government line – and to deny, distort or suppress the truth?
How many people have to die before the media wakes up?
NOTE: According to the National Vaccine Information Centre in the US, 13 people had died of the covid-19 vaccine by the 30th December 2020.
UK Govt – December 3rd 2020 "It's Perfectly Safe, but it might not be…"
https://www.gov.uk/government/news/government-to-add-covid-19-to-vaccine-damage-payments-scheme
Government to add COVID-19 to Vaccine Damage Payments Scheme
The government is taking this precautionary step in advance of a rollout of an authorised COVID-19 vaccine and in line with other immunisation programmes.
And – not forgetting this:
Yes, the UK Govt. knows they are safe, so they have a special page for you, which never gets used!
https://www.gov.uk/vaccine-damage-payment/how-to-claim
World Doctors Alliance – OPEN LETTER TO ALL THE CITIZENS OF THE WORLD AND ALL THE GOVERNMENTS OF THE WORLD.
https://worlddoctorsalliance.com/
Last update 27.01.2020
TOTAL SIGNATURES SO FAR: 71,537
Website data last 30 days:
Total pageviews: 497,433
Total unique visitors: 167,081
INTRODUCTION
We were told initially that the premise for lockdown was to 'flatten the curve' and therefore protect the NHS from being overwhelmed.
It is clear that at no point was the National Health Service (NHS) in any danger of being overwhelmed, and since May 2020 covid wards have been largely empty; and crucially the death toll from covid has remained extremely low.
We now have hundreds of thousands of so-called 'cases', 'infections' and 'positive tests' but hardly any sick people. Recall that four fifths (80%) of 'infections' are asymptomatic (1) Covid wards have been by and large empty throughout June, July, August and September 2020. Most importantly covid deaths are at an all-time low. It is clear that these 'cases' are in fact not 'cases' but rather they are normal healthy people.
So-called asymptomatic cases have never in the history of respiratory disease been the driver for spread of infection. Rather it is symptomatic people who spread respiratory infections – not asymptomatic people.(2)
It is also abundantly clear that the 'pandemic' is basically over and has been since June 2020. (3)
We have very highly likely reached herd immunity and therefore have no need for a vaccine.