Polish Pastor, "Vaccine" Injury and Death Counts Rise – Problems for Women, Public Health Mafia, Rights and Whistleblowing, UK COVID Plans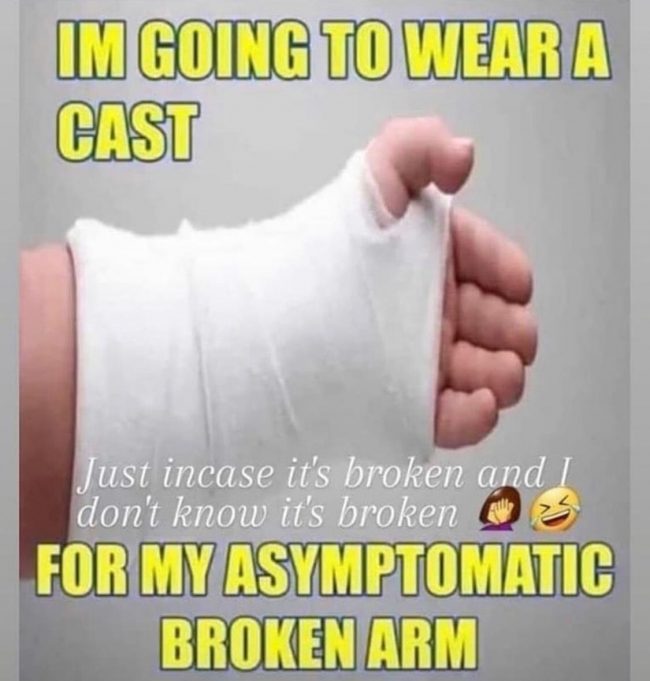 https://off-guardian.org/2021/04/26/10-covid-skeptic-memes-to-get-you-through-the-day/
'Sickening': Polish Pastor Who Threw 'Gestapo' Calgary Police From Church Gets Another Visit, Kicks Them Out Again
"Wake up or else." – Some have said this was staged, but I highly doubt that.
https://www.dailywire.com/news/sickening-polish-pastor-who-threw-gestapo-calgary-police-from-church-gets-another-visit-kicks-them-out-again
7,766 DEAD 330,218 Injuries: European Database of Adverse Drug Reactions for COVID-19 "Vaccines"
No words needed.
https://healthimpactnews.com/2021/7766-dead-330218-injuries-european-database-of-adverse-drug-reactions-for-covid-19-vaccines/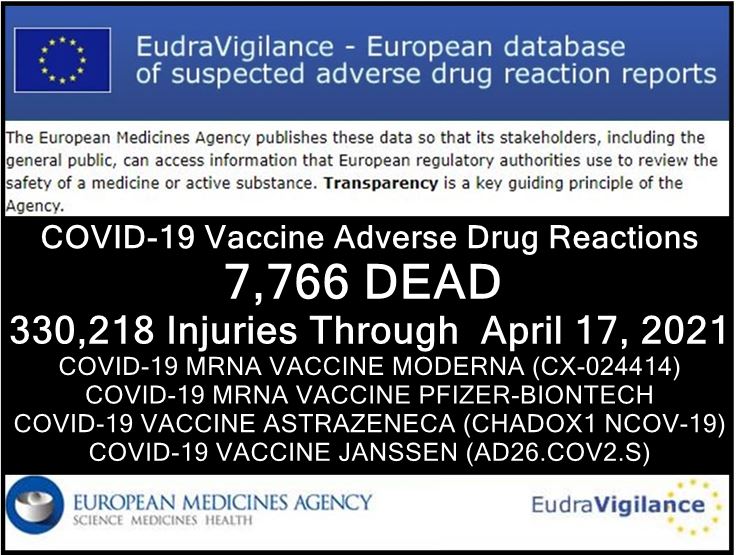 PUBLIC HEALTH MAFIA ELIMINATING OPPOSITION? MAGUFULI IS NOT THE FIRST!
Polly St George looks into the death of Tanzania President John Magufuli – a good man.
https://www.bitchute.com/video/SXDvSnDwUe3Y/
The Guardian (sponsored by Bill Gates) 'Time to Rein In Magufuli'
https://www.theguardian.com/global-development/2021/feb/08/its-time-for-africa-to-rein-in-tanzanias-anti-vaxxer-president
India's "Covid Crisis" has been hijacked – The Mainstream Media are lying to you
The narrative that is evolving now seems to be "Oh no! The vaccine doesn't work for enough people! We need another one to protect you!"
https://dailyexpose.co.uk/2021/04/25/indias-covid-crisis-has-been-hijacked-the-mainstream-media-are-lying-to-you/
This is going to continue – all while the shame-stream media is operating.
French drug assessment center demands removal of all four widely used COVID vaccines
According to the CTIAP, all of the vaccines were put on the market and actively used on human beings before 'proof of quality for the active substance and the finished product' was produced.
Thu Apr 22, 2021 – 10:42 am EST
https://www.lifesitenews.com/news/french-drug-assessment-center-demands-removal-of-all-four-widely-used-covid-vaccines
April 22, 2021 (LifeSiteNews) — A regional independent drug assessment center, the CTIAP (Centre territorial d'Information indépendante et d'Avis pharmaceutiques), which is linked to the Cholet public hospital in the west of France, recently published a report showing that the vaccines used against COVID were not only submitted to insufficient clinical testing, but that the quality of the active substances, their "excipients, some of which are new," and the manufacturing processes are problematic. "These new excipients should be considered as new active substances," the Cholet hospital team stated, in a study that according to them raises issues that have not been commented to date.
The team led by Dr. Catherine Frade, a pharmacist, worked on public data released by the EMA with relation to the Pfizer, Moderna, AstraZeneca and Janssen (Johnson & Johnson) shots, and its first caveat was that all these products only have temporary marketing authorizations. They are all subject to further studies that reach as far as 2024 and even beyond, and these will be almost impossible to be completed because of the way the vaccines are now being distributed, said the CTIAP report.
Women Report Menstrual Problems Relating to "Vaccinations"
https://forbiddenknowledgetv.net/elite-doctor-breaks-for-freedom/
Until recently, Dr Christiane Northrup was a rock star of the Liberal media, with three New York Times Bestsellers, 10 appearances on Oprah! and numerous TV appearances on The Dr. Oz Show, Today, Rachel Ray Show, The View, 20/20 and eight PBS Specials, which raised millions of dollars for the network. She was a celebrated Feminist on the front lines of women's Mind-Body Medicine, when doing this was still OK – before the Big Pharma global coup d'état.
Today, she is eviscerated on her Wikipedia page for having "embraced QAnon ideology during the COVID-19 pandemic," based on this article, which is totally laughable. "QAnon" has become the latest iteration of the term, "conspiracy theorist", used to discredit truth-telling opponents of the criminal establishment.
I've seen it used against others and it was recently used against me, as if I live and breathe "QAnon" and therefore, I am garbage, so don't listen to anything I say. It looks like low-rent "journalists" are being hired to systematically deploy the "QAnon" label in hit pieces against those who question the corporatist narrative that has hijacked the planet since March, 2020. These derogatory articles are designed to appear in internet searches of the target's name.
The "QAnon" trope is one of total disparagement, falsely associating those to whom it is ascribed with "extreme right wing" "white supremacist" "domestic terrorism" (despite Q promoting none of this); even PBS' very own Dr Northrup, with eight blockbuster seasons, not including re-runs is now a suspected Nazi. The patent absurdity of this beggars belief.
As Dr Northrup explains here, "In 2013, I was one of Reader's Digest Most Trusted People in America, and now, in 2021, I am one of the 'Disinformation Dozen', along with Sherri [Tenpenny], those of us accused of 70% of the disinformation about vaccines on the internet – which is an astounding fall from grace, until you understand who is determining what grace is."
That "who" is Big Pharma and the world's largest corporations, which have been weaponized by the Globalists to bypass the world's legal systems and to commit a litany of COVID crimes against humanity over the past 14 months, not the least of which are the so-called "vaccines".
In this short video, Dr Northrup, who unlike Clif High is a physician and was a clinical assistant professor of OBGYN for 25 years corroborates Clif's report last week of miscarriages and other reproductive dysfunction in both men and women.
Disturbingly, she also corroborates what Clif said about these problems being seen in non-vaccinated women working in proximity to vaccinated people, all but confirming his most serious concern, that the synthetic spike protein antibodies shed by the vaccinated could conceivably lead to the complete sterilization of the human species – including the unvaccinated.
Now start at the top of this page and work down (same 6 min video is posted here).
http://www.truthunmasked.org/p/stay-away.html
David Beckham Peek A Boo Club / Hugo Talks #lockdown
A closer look at this person of low IQ.
https://www.bitchute.com/video/VHPiLI9GFnFU/
UK Citizen – Rights Declaration Initiative
I am not sure who's behind this, but I agree with the thrust of it – and it embodies the kind of thing I tried to do last year, with the 2 reports I wrote.
COVID Whistleblower-Website and Nurse
A new site has appeared with this theme
https://www.blowthecovid19whistle.com/
And here's a former research nurse who's actually done some whistleblowing…. I feel David Scott could have allowed her more time to talk.
Lisa Brackenridge, former nurse, discusses life in the NHS under the Covid policy agenda.
https://www.youtube.com/watch?v=oYzdF-VQjvw
UK – Future Plans – Published and Postulated
Do you want a job…? Write to hr.recruitmentorders@hertfordshire.gov.uk – I have!
https://www.contractsfinder.service.gov.uk/notice/839fe8e5-0e12-4631-b152-ee141aec9638
Description
Hertfordshire County Council will be looking for a provider to supply 60 COVID Marshals to 10 districts throughout the County. Our vision for our COVID Marshal programme is to continue the service delivery to the residents of Hertfordshire from 1st July 2021, that Hertfordshire County Council implemented in Nov 2020. This will be in complement to the recovery of Hertfordshire from COVID-19 and there are some practical activities that we are keen to carry on throughout this programme of COVID Marshals;
Alex Thomson has recently discussed this text an unknown Whitehall source. I've seen a couple of posts hinting at similar things. And we have a pretty good idea of what the plan seems to be anyway. But no one in Whitehall is acting very human, so this could all be more smoke and mirrors:
A Whitehall source directly linked to the Covid Response has said that the UK Government have already structured a detailed plan designed to neutralise each stage of Lockdown easing, including the compliance of media outlets to help with spreading the fear message. The Whitehall source has said that he has been "increasingly concerned" with how the Government are behaving, and that their "relationship with the truth" is now not even on nodding terms. The latest plan will involve a series of 'crisis' around drug supply; mutant strains; and third waves, specifically choreographed to condition the public for further lockdowns and vaccine passports. The plan, that is designed to take us to September 27th 2021 is to be released in stages over the summer months and, according to the Whitehall source, is already 'well underway'. On March the 8th, the first milestone of the roadmap was implemented, with school children finally returning to class. The following day Chris Whitty gave a pre-written speech to the Commons that said schools reopening would cause another surge in the virus and ended it with "Let me be clear, many, many more people will die before this is over" the soundbite obligingly repeated on every news outlet, with BBC news having it on-loop all day. On March the 29th, the second milestone of the roadmap was implemented. The Government said: The evidence shows that it is safer for people to meet outdoors rather than indoors. And this is why from 29 March, when most schools start to break up for the Easter holidays, outdoor gatherings (including in private gardens) of either 6 people (the Rule of 6) or 2 households will also be allowed, making it easier for friends and families to meet outside. The next day (March 30th) the AstraZeneca Vaccine was again stopped due to blood clots fears, despite the medicine's regulator clearing it only the previous week. Whilst Boris Johnson repeated what he'd said the previous week that the mutated virus on the continent would inevitably "wash up on our shores" On April 19th, the third milestone saw pub gardens, and non-essential shops reopen. Followed immediately by news of a second vaccine being halted for fear it was causing blood clots and the discovery of the South African mutation said to be able to avoid them anyway. The next milestone is due on May 17th with the Government relaxing social contact rules further and the opening of indoor venues. This will be followed by a story that the mutation is 'more deadly than first thought' and that young people are now also vulnerable to it, accompanied by the result of the vaccine passport trials have shown that they have a 'positive effect on virus reduction'. The final milestone is due on June 21st where ALL restrictions were promised to be lifted. This will not be allowed to happen. Vaccine passports / Track and Trace will be mandatory, as will masks and social distancing. The entire week of the 21st will be taken up by a third wave, which will suddenly be 'rampant', and this will be attributed to the South African variant which was now officially more deadly than what we have had previously. This will be accompanied with yet more issues with vaccine supplies. One of the vaccines will be said to be effective against the SA strain, but a 'problem' with its manufacture will emerge. The Whitehall source went on to say: "All the measures are aimed at two things, vaccine passports and lockdowns starting next winter" adding "The ultimate goal is to have the public, back in their box." He went on to say: "note that Boris is now talking down vaccine's and bigging-up lockdowns, that wasn't a mistake by the way, that was all part of the plan". The plan will also include an add campaign like the one we saw at Christmas, the message this time being that the pandemic isn't over and that vaccine passports are the new 'solution'.
It's become very clear that to politicians and the shamestream media, important facts must be ignored – only the narrative is important and needs to be protected – at all costs.
===
Look at "Recent Posts" on the website : https://www.checktheevidence.com/wordpress/category/news/
Follow on Facebook: https://www.facebook.com/Check-The-Evidence-772857093052741/
Follow on Twitter: https://twitter.com/check_evidence
Follow on Linked in: https://www.linkedin.com/in/andrew-johnson-a1487b19/
Or if you don't use social media, you can use an RSS reader and use the link on the http://www.checktheevidence.com/wordpress site for RSS