Danish Soccer Player – Cardiac Arrest on Pitch, Dead BA Pilots (Reuters), Finnish MP on "Genocide" (FB Censors) and more, No Pandemic in Birmingham UK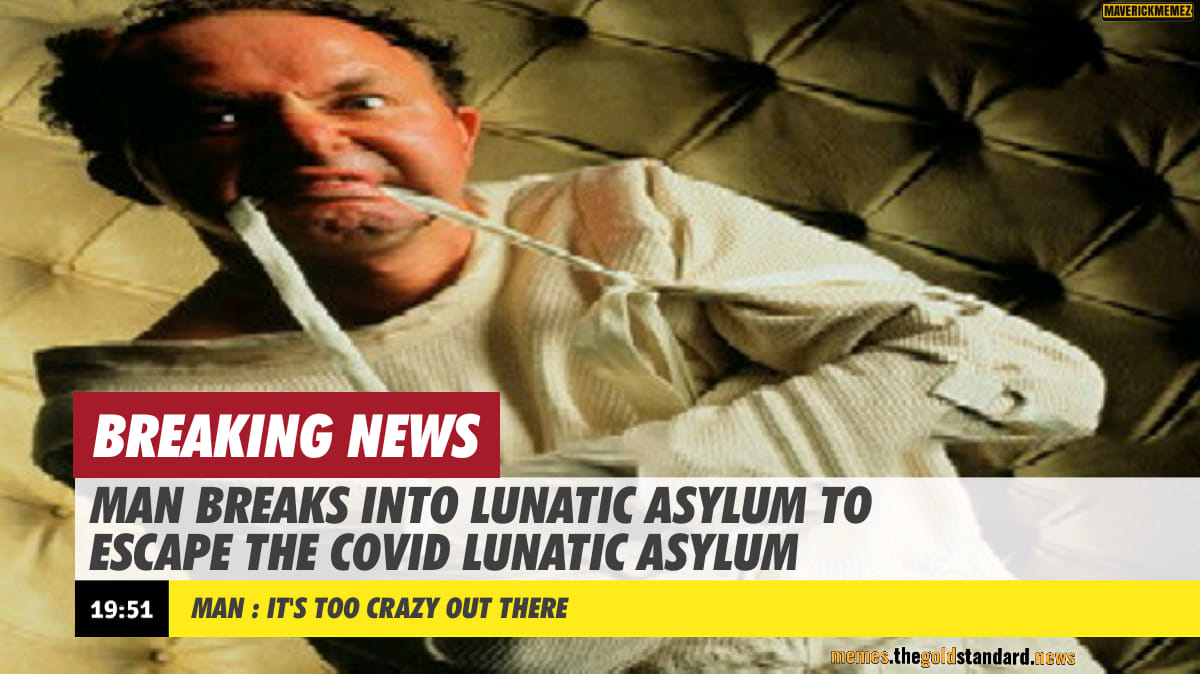 Danish Soccer Star Christen Ericksen Collapses, Heart Restarted On Pitch
Reports seem to confirm he'd been had the jab about 2 weeks before the match – and what was it that the report said about the risk to those under 30 yrs old…?
https://greatgameindia.com/christen-ericksenheart-resta
British Airways – 4 Pilots Dead
I sent this story to a contact who used to be a pilot. He advised me that 2 Virgin Airlines Captains have also recently died. So a suggested explanation is DVT due to enhanced risk of blood clots. This must end.
https://www.reuters.com/article/factcheck-coronavirus-aviation-idUSL2N2NZ1ZO
https://twitter.com/TheThin59129130/status/1405468219998150658
Reuters presented the claims to British Airways, which said they were unfounded and that no such talks were underway with the government. The spokesperson, however, confirmed the authenticity of the four condolence books, as four company pilots had recently passed away. "Our thoughts are with their family and friends," they said, adding that none of the deaths was linked to vaccines.
https://gab.com/BeachMilk/posts/106426449588162200
No Pandemic Deaths in Birmingham area in 2020
What will it take? We now, know, evidence and logic are irrelevant to a narrative financed by the rich global elite – who can create as much fake money as they need to pay anyone off… How many people have "sold their souls"…? How many people know they have one…?
https://www.whatdotheyknow.com/request/722850/response/1722256/attach/2/Response%20all%20information%20to%20be%20supplied.pdf

Pharmacist Whistleblower Quits CVS Job Says COVID-19 Shots Are Killing People
This is quite conversational/verbose but is impassioned, sincere and contains some useful information.
https://www.bitchute.com/video/WjFCat3jGamh/
Entering Race, Ethnicity Data Mandatory
Vax Insert Info Says "Intentionally Left Blank"
CVS Pays $6,500/Week to Give Vax in Nursing Homes
"Self-Administering Vaccines" = Spike Protein Transmission?
USA Threatening Other Countries to Take Lethal Version of COVID Vax Rather Than Make Their Own and Destroying HCQ Factories?
Pharmacists Told To Dissuade Patients from Testing to See If Shot Took Effect Because It Won't Show (So Why Are People Being Tested?*)
What's With the Magnets?
Polly St George… she is, of course completely bonkers – isn't she… isn't she….? I think she has some interesting observations on the "mask worms" – and maybe they aren't living creatures at all…
https://www.bitchute.com/video/GMtUZfHuQNlL/
Finnish MP Warns Colleagues: You will be Complicit in Genocide
https://sarahwestall.com/finnish-mp-warns-colleagues-you-will-be-complicit-in-genocide/
On June 9, Ano Turtiainen, member of the Finnish Parliament, warned of a possible genocide caused by the COVID vaccine in Finland.
Here is the translation of his speech in his country's parliament:
"Honorable Speaker, the committee's report mentions a wide range of real challenges to Finland's security.
However, the report omits a very serious challenge to the security of Finland and Finns… I am referring to those so-called COVID vaccines that have also divided our population into the awake and the lost.
You will never again be able to plead ignorance of the risk to which Finnish citizens are exposed.
Finland is currently injecting its citizens with toxic substances disguised as COVID vaccines.
Listen carefully: None of these injected poisons disguised as COVID vaccines have a marketing authorization in Finland, but only a conditional marketing authorization from the European Medicines Agency (EMA). The terms of a conditional license state that the authorization is conditional: "The available information must demonstrate that the benefits of the medical product outweigh its risks."
Secondly, dear colleagues, despite the media discourse, we have so far officially no deaths from COVID in Finland. According to THL (equivalent to CDC – Centers for Disease Control and Prevention), the official causes of death from the year 2020 will not be published until 2022. However, according to Fimea (equivalent to VAERS – The Vaccine Adverse Event Reporting System is a US vaccine safety program), 78 people have died from COVID vaccines in Finland and there are 1,306 reports of serious adverse events. And 3,630 untreated reports. It is estimated that about 57% of the processed reports have serious adverse events. The source is Fimea (www.fimea.fi).
Third, the conditional marketing authorization for these toxicants…also says, "The applicant must be able to provide complete long-term clinical information." …
In violation of the Nuremberg Code, the Finns were not informed that this was human experimentation.
Now, after this speech, I have made all of you and the media aware that this is an experiment on human beings and that the results are terrible. In comparison, the Pandemrix vaccine experiment, which had previously failed, was stopped with 32 times fewer side effects than what we have now.
Video postings:
https://tokentube.net/v/3273793332/COVID-Vaccine-Genocide—ENGLISH-SUBTITLES—Rapsodia-fi
https://www.bitchute.com/video/QbOxSZVoX1jb/
Canadian MP Derek Sloan raises concerns about censorship of doctors and scientists – June 17, 2021
Worth listening to this parliamentary presentation – and it seems like this MP is, indeed, independent…
https://www.youtube.com/watch?v=vUrp5PlnBwQ
Facebook Censors My Post and Comment, Linked in Censors a Post
Facebook deleted my posting of this (one of the very few times I've had facebook posts deleted within a short time).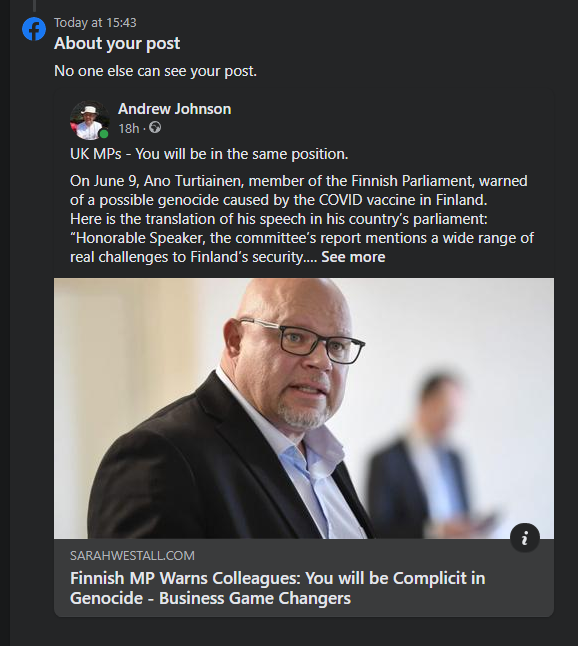 A comment I made (I don't even know where how old it was posted) was also blocked by FB today for breaking "Community Standards/Guidelines"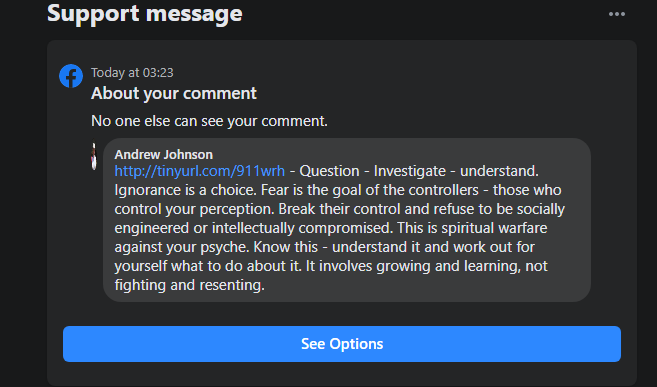 Do the guidelines mention of freedom of thought? LinkedIn censored an earlier post feed.
The Inventor of mRNA Vaccine Technology: Dr Robert Malone – "The Spike Protein is Toxic"
Not an interview, but a summary and commentary of Dr Malone's thoughts around the spike protein.
Also, a sober warning to those like me who are very pro-vaccine but should not ignore the evidence emerging around this particular crop of vaccines.
https://www.youtube.com/watch?v=xC7_pRidnZ0
A bit more info here:
https://childrenshealthdefense.org/defender/mrna-technology-covid-vaccine-lipid-nanoparticles-accumulate-ovaries/
HIV Now Sets the Pace in the Bogus-vaxx Race
'HIV' and 'AIDS' are just as bogus as the 'novel coronavirus' and 'Covid.' Yet they're now setting the pace in the vaxx-development race.
Rosemary Frei, MSc – June 14, 2021
https://www.rosemaryfrei.ca/hiv-now-sets-the-pace-in-the-bogus-vaxx-race/
UK Council Contracts for Dealing with "Mass Fatalities" – Is Something Brewing?
https://www.publiccontractsscotland.gov.uk/search/show/search_view.aspx?ID=MAY415504

https://bidstats.uk/tenders/2021/W23/752550337
Temporary Body Storage Service
A Tender Notice
by WESTMINSTER CITY COUNCIL
Source

Type

Framework (Works)

Duration

4 year

Value

£6M
Sector

Published

10 Jun 2021

Delivery

To 21 Jun 2025 (est.)

Deadline

12 Jul 2021 12:00
Location
London:
Geochart for 1 buyers and 0 suppliers
Description
The Authority seeks to procure a framework agreement for temporary body storage in the event of an excess deaths situation for the 32 London boroughs and the City of London, led by Westminster City Council. The framework agreement will appoint a single provider and will be for a period of 4 years. This will be a contingency contract, only called upon in the event that an excess deaths situation arises in the future and existing local body storage capacity needs to be augmented. The over-arching aim of this tender is to provide a single framework supplier that will be able to provide temporary body storage facilities to house deceased in the event of an excess deaths situation. The deceased will be stored with dignity and respect, at locations to be determined based on local London needs at the time and will require some design elements to accommodate local site conditions and constraints, while being capable of rapid deployment, construction and commissioning to an agreed standard. This framework will be procured by the Authority as the pan-London lead, but all London local authorities may call-off against the framework. This will be a contingency cover framework and as such there is no minimum guarantee of any level of spend or call-off under the framework agreement.
Total Quantity or Scope
The Authority will be hiring the structures and associated items, which will be decommissioned and removed at the end of the requirement.
CPV Codes
45215000 

– 

Construction work for buildings relating to health and social services, for crematoriums and public conveniences

44210000 

– 

Structures and parts of structures
Indicators
This is a one-off contract (no recurrence)
Renewals are not available.
Other Information
** PREVIEW NOTICE, please check Find a Tender for full details. **
Reference
ocds-h6vhtk-02bab1
FTS 013120-2021
Domains
Informed consent disclosure to vaccine trial subjects of risk of COVID-19 vaccines worsening clinical disease (Mar 2021)
https://pubmed.ncbi.nlm.nih.gov/33113270/
Conclusions drawn from the study and clinical implications: The specific and significant COVID-19 risk of ADE should have been and should be prominently and independently disclosed to research subjects currently in vaccine trials, as well as those being recruited for the trials and future patients after vaccine approval, in order to meet the medical ethics standard of patient comprehension for informed consent.
Dr. Roger Hodkinson, pathologist, on medical malfeasance during the Corona crisis
https://odysee.com/@LongXXvids:c/Dr-Roger-Hodkinson—-CA-Ad-hoc—June-11-2021:3
The highly experienced and Cambridge trained pathologist from Canada, Dr. Roger Hodkinson joined two lawyers of the German Corona Committee on June 11 2021 for the Committee's 13th Ad-hoc meeting. Dr. Hodkinson has a different interpretation to the lawyers of the Committee about what is probably behind the present Corona crisis but they can agree on a couple of important points. There has been massive medical malfeasance involved in the treatment of patients throughout the crisis and that there are serious safety issues with the mRNA vaccines which are now seen, from the manufacturer's own data, to carry a major potential risk of damage to male and female fertility, especially in view of their planned / actual deployment on children. Hodkinson goes as far to say very clearly that this amounts to 'State sponsored Child Abuse'.
===
Look at "Recent Posts" on the website : https://www.checktheevidence.com/wordpress/category/news/
Follow on Facebook: https://www.facebook.com/Check-The-Evidence-772857093052741/
Follow on Twitter: https://twitter.com/check_evidence
Follow on Linked in: https://www.linkedin.com/in/andrew-johnson-a1487b19/
Or if you don't use social media, you can use an RSS reader and use the link on the http://www.checktheevidence.com/wordpress site for RSS