G7 scammery, Matt Hancock and Genomics England, More Dr Mike Yeadon, Another BBC Presenter Died after "jab", Eric and Van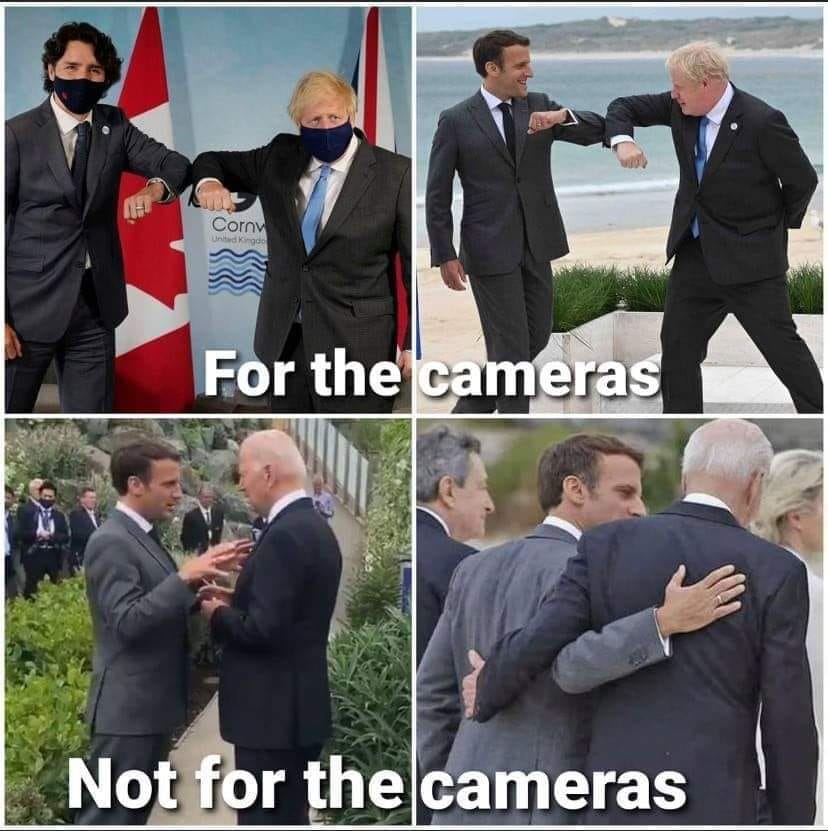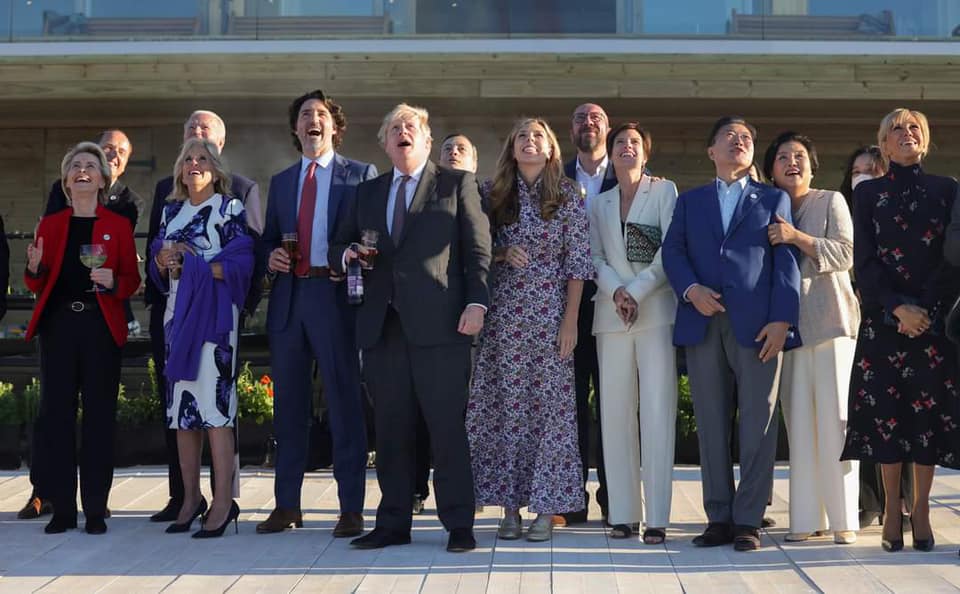 Social Distancing?
Build Back Better Ay?
Once again, above, we see the climate change and COVID scams being melded together. They're fabricated narratives which allow them to claim there is a need to "build back better."
https://www.youtube.com/watch?v=FSMDa3hwUEc&ab_channel=BonningtontheBoraxBandit
All lies. Please read and share my free book, if you haven't done so already.
https://www.checktheevidence.com/wordpress/2017/09/24/book-climate-change-and-global-warming-exposed-hidden-evidence-disguised-plans/
Matt Hancock Appeared in a WEF Presentation in 2019 with a Stefan Bancel of Moderna
Matt Hancock said he was a "proud shareholder" in Genomics England (link below takes you to this statement)
https://youtu.be/buCYCn9t9Sc?t=137
Genomics England and Matt Hancock – https://www.gov.uk/government/news/matt-hancock-announces-ambition-to-map-5-million-genomes. Also on the panel was Stefan Bancel
https://www.thetimes.co.uk/article/stephane-bancel-modernas-5bn-man-hbcngngk0
Bancel bragged they were injecting humans with MRNA (but they've only ever produced one "vaccine") No conflicts of interest though, ay?
Dr Mike Yeadon – The Highwire
An excellent interview – covering the main lies and the conclusions that can be drawn from them.
https://www.bitchute.com/video/nhMMgtkOcjUQ/
Dom Busby – BBC Radio 5 Live Presenter – Dies after a "Short Illness"
A "short illness," ay? Which started when, exactly?
Jun 10 – https://www.thesun.ie/news/7122125/dom-busby-dies-dead-bbc-radio-host-stephen-fry/
Mar 14 – https://twitter.com/Dom_bbc/status/1371135017351536644
The "Food"-related Variants of the Virus:
Notice how we've had "food" variants? Chinese (originally), Indian (earlier this year) and now Thai https://www.mirror.co.uk/news/uk-news/everything-know-thai-mutant-covid-24204876  and, yes, the "Mexican Wave" https://metro.co.uk/2021/06/08/scientists-identify-covid-mexican-variant-thats-spread-to-europe-14736197/
"Van Morrison is a toxic menace – Glastonbury shouldn't be hosting him"
The Dependent newspaper shows just how shame-stream it is.
https://www.independent.co.uk/arts-entertainment/music/features/van-morrison-glastonbury-abbey-extravaganza-b1865613.html
They're also joined by the Glastonbury Abbey Extravaganza – an annual event organised by the Eavis family, who also run the Glastonbury Festival. Van is an Abbey favourite. He's played the community-oriented event three times before, and will headline again this September. But this time feels different. Why? Because Van Morrison has become a stain on music, an anti-social menace and someone who probably shouldn't have access to a platform for a while. As a fan of the festival, I'm worried that Glastonbury's reputation could be damaged by working with such a toxic human right now.
Eric Clapton: Exclusive & Uncensored | Oracle Films
We are truly on "The Edge of Darkness," Eric.
https://www.youtube.com/watch?v=4OHmMKrVbNk
Will this be a target for YT censorship too? Let's see.
Backup: https://odysee.com/@notanotherbrick:f/Eric_Clapton_Exclusive_-_Uncensored_Oracle_Films:0
He talked to Robin Monotti: https://www.youtube.com/watch?v=uJRtqv6NIU4 who explains how he became sceptical of the COVID narrative due to being ill with "flu" in late 2019/early 2020 (this part is quite long).
Update on BBC Newsround Propaganda Stunt.
UKMFA have published an Open Letter to Professor Devi Sridhar re BBC Newsround Episode on Children's Vaccines (07/06/21)
https://www.ukmedfreedom.org/open-letters/open-letter-to-professor-devi-sridhar-re-bbc-newsround-episode-on-childrens-vaccines
In the current situation, which is fraught with uncertainty and fear, the public is looking to professionals for balanced advice. To present such a simplified and biased message is, in our opinion, deeply irresponsible. When it is targeted specifically at a vulnerable group of children, it is unforgiveable.
 In relation to vaccinating children, here is another UK letter signed by many doctors.
https://www.hartgroup.org/open-letter-child-vaccination/
The BBC Responded to my complaint (but others I know received an identical response – so I think this was all a carefully planned "stunt"
———- Original Message ———-
From: BBC Complaints <bbc_complaints_website@contact.bbc.co.uk>
To: Andrew Johnson <ad.johnson@ntlworld.com>
Date: 14 June 2021 at 15:17
Subject: BBC Complaints – Case number CAS-6798132-K5L2Y0
Dear Mr Johnson 
Many thanks for contacting us about Newsround's coverage of the decision by the MHRA to approve use of the Pfizer vaccine for use for 12-15 year olds.
Your concerns about the coverage have been passed onto the editorial team responsible. Having reviewed the content, we have edited the article and video in question.
Thank you for bringing this matter to our attention.
Kind regards,
BBC Complaints Team
www.bbc.co.uk/complaints
Please note: this email is sent from an unmonitored address so please don't reply. If necessary please contact us through our webform (please include your case reference number).
 A bit late for editing after the thing went out! Evil is as evil does…. Note, they include no information about how to escalate the complaint if one is unhappy with the response.
CDC ACKNOWLEDGES HEART RISKS TO YOUNG PEOPLE, MUST DISCONTINUE COVID-19 VACCINATION IN PEOPLE ≤ 30
https://americasfrontlinedoctors.org/press_releases/cdc-acknowledges/
"It's long past time that the CDC acknowledged there are hundreds of cases involving young people who have been vaccinated. Almost all of these children require hospitalization and 20% have reduced heart function. The children/youths will need to be on heart failure drugs and no physical activity for 3-6 months to try to prevent permanent heart failure. The CDC must immediately suspend any additional authorizations for the use of COVID-19 vaccines in children. If an otherwise healthy 12-year-old suffers heart damage after receiving these vaccines, their life will never be the same. These conditions can change a young person's healthy heart to that of a frail 70 year old overnight. It continues to be unfortunate that the CDC refuses to acknowledge risks and mounting adverse events until they are forced to by rising cases.
===
Look at "Recent Posts" on the website : https://www.checktheevidence.com/wordpress/category/news/
Follow on Facebook: https://www.facebook.com/Check-The-Evidence-772857093052741/
Follow on Twitter: https://twitter.com/check_evidence
Follow on Linked in: https://www.linkedin.com/in/andrew-johnson-a1487b19/
Or if you don't use social media, you can use an RSS reader and use the link on the http://www.checktheevidence.com/wordpress site for RSS