More from Dr Mike Yeadon, Latest WHO Shenanigans, Another US Nurse Speaks Out on Jabs, Free Doughnuts – and More.
Dr Mike Yeadon – Now in the USA – Compelling Interview (2 hrs +)
Another powerful interview by Yeadon who rightly calls on people to resign. Yes, he will get flak from those saying there is no real virus etc. I think we can use pieces of what each of these people say to help us and the situation.
https://brandnewtube.com/watch/dr-mike-yeadon-sca-session-86-the-fog-is-lifting-jan-7-2022_Sfu45Y5WpsPUVn2.html
WHO Joins EU and Changes Direction — Suddenly Warns Against Taking Continued COVID Booster Shots
More mind games…?
https://www.thegatewaypundit.com/2022/01/frightening-joins-eu-changes-direction-suddenly-warns-taking-continued-covid-booster-shots/
By Jim Hoft
Published January 12, 2022 at 9:52am
On Tuesday European regulators warned that the COVID booster shots could adversely affect the immune system.
This was a huge admission for European officials after pushing booster shots just weeks earlier.  What happened?
Then later on Tuesday the World Health Organization joined the EU and also condemned the continued booster regimen.
Informed Nurse Points out Error in School Boards Policy
https://www.redvoicemedia.com/video/2022/01/informed-nurse-schools-the-board-of-education-in-epic-speech-about-covid/
"Free Doughnuts – Help Yourself"
Another 6 Hour-Long video that I was sent by the anonymous video editor/creator.
https://rumble.com/vsfc4t-free-doughnuts.html
This was just going to be a straightforward compilation of vax deaths and injuries but then it morphed into a self-contained film in its own right. The idea is to show the horror of what these injections are actually doing. This could be a good entry level film for people who are still watching TV and believe the vax is 'safe and effective'.
It also includes Dr Sam White's recent interview with Reiner Fuellmich. Even though he's not really questioning the validity of 'the virus' or 'germ theory', he's showing what all GP's should be doing right now. Total respect for that. The interview also features some very compelling data on the variable lethality of the different vax batches/ lots.
Staged Encounter between UK Doctor and UK Health Sec?
Sky news has helped create and maintain the problem and has not made any attempt to correct it…. Also – as we know, there is no real COVID so it helps to keep that alive too
http://news.sky.com/story/covid-19-sajid-javid-directly-challenged-on-mandatory-coronavirus-jabs-by-unvaccinated-nhs-doctor-12511224
Here's "Hugo"'s take on it:
https://hugotalks.com/2022/01/07/sky-doctor-sajid-staged-paving-the-way-for-pills-hugo-talks-lockdown/
Professor Ehud Qimron: "Ministry of Health, it's time to admit failure"
At first glance, you thought it said "Professor Omicron," right? This is a good letter in some ways, but doesn't, of course, go far enough in stating it was a scam that was planned ages ago and there is and was no  pandemic and no emergency. I am not sure if it helps the situation, but it is always worth having a look at things like this to see where some people are ending up/leading us/being led to etc.
https://swprs.org/professor-ehud-qimron-ministry-of-health-its-time-to-admit-failure/
Professor Ehud Qimron, head of the Department of Microbiology and Immunology at Tel Aviv University and one of the leading Israeli immunologists, has written an open letter sharply criticizing the Israeli – and indeed global – management of the coronavirus pandemic.
Original letter in Hebrew: N12 News (January 6, 2022); translated by Google/SPR. See also: Professor Qimron's prediction from August 2020: "History will judge the hysteria" (INN).
More on the UK Police Investigation of Jabs
The flyer below seems to be encouraging other Police forces in the UK to get involved, but I am not sure how they would get involved.  Met Police is headed up by Cressida Dick is a common purpose graduate and she (essentially) responsible for the death of Jean Charles De Menezes (who probably learned something which proved the 7/7 event was another "false flag"). I am not confident this will go anywhere – but perhaps it will expose the issue to some people who still have a conscience.
https://unitynewsnetwork.co.uk/group-of-activists-and-law-firm-say-met-police-are-engaged-in-criminal-investigation-over-issues-around-vaccines-and-public-health/
 UK POLICE LAUNCH MAJOR INVESTIGATION INTO MRNA COVID‐19 VACCINE‐RELATED CORPORATE CRIMES AND THREATS TO PUBLIC HEALTH 
Metropolitan Police Crime Number:  6029679/21.  International Criminal Court (The Hague) Case number: OTP‐CR‐473/21 
The world's largest‐ever international criminal investigation is now under‐way, involving Hammersmith Police and The Metropolitan Police. 
The UK police accepted the supporting information and agreed there is enough evidence to proceed under the above crime number.   
The case was lodged on 20th December 2021 by Sam White MD; Philip Hyland (PJH Law); Lois Bayliss (Broad Yorkshire Law) and retired policeman Mark Sexton; requests for assistance have been made to the likes of: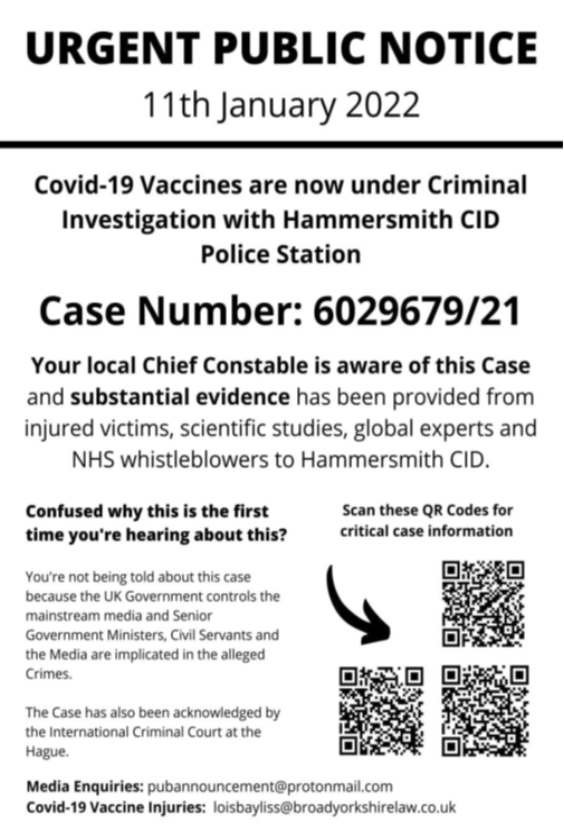 Omicron: Pan or Nothing? The Rebirth of Zero
Very thought provoking – thanks to Heather for sending this to me. It's very dense and covers a lot of ground in 37 minutes. Some parts seem more relevant than others, but the first few minutes are pretty interesting.
https://www.youtube.com/watch?v=z2QUJRyhLfw
===
Look at "Recent Posts" on the website : https://www.checktheevidence.com/wordpress/category/news/
Follow on Facebook: https://www.facebook.com/Check-The-Evidence-772857093052741/
Follow on Twitter: https://twitter.com/check_evidence
Or if you don't use social media, you can use an RSS reader and use the link on the http://www.checktheevidence.com/wordpress site for RSS