How They've Done it. Do doctors have to have the covid-19 vaccine?, More from Doctors, UK Cinema Assoc., Barred from seeing his Deceased Wife, EU 2017/18 Vaccine Passport Plan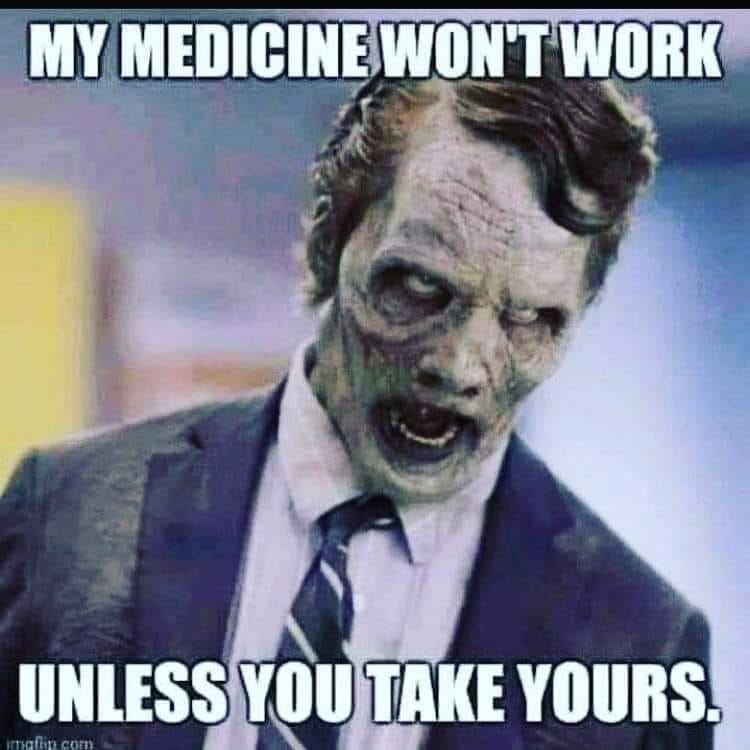 https://www.cdc.gov/cpr/zombie/
How They've Done it… COVID-19 is a Symdemic (or Simdemic) Not  a Pandemic – It's a Securitization of a Health Issue Plan
 The pace of this is a little slow (I watched on 1.5x speed) but it is a brilliant exposition of the deeper levels of what is going on now and how it's been executed successfully. A few profanities here and there, but plenty of stuff here for the REALLY critical thinker… some revealing footage of Chris Whitty from a 2018 lecture, near the end of this video. The presentation shows how the truth about issues such as climate change and COVID have been "securitized." Add this to the more obvious brainwashing that's been done – and the elites/globalists/whoever have been able to pull off this egregious plan with little or no resistance. You know how no politicians or public figures will discuss the basic truths of the issue – that there is and was no real pandemic? That's called "securitization" of the issue – explained in the video at about 1hr 12 mins.
https://www.youtube.com/watch?v=pZQ-qxwYIvA
Plenty of other interesting videos on this channel: https://www.youtube.com/c/EarthlingUK/videos (very low viewing numbers too!)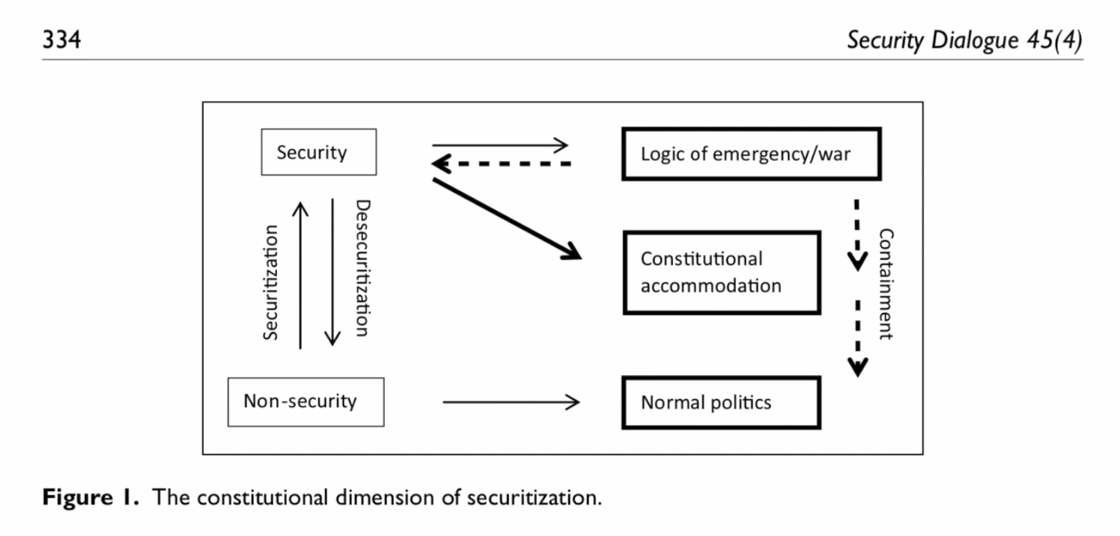 Source: https://journals.sagepub.com/doi/10.1177/0967010614535833?icid=int.sj-full-text.similar-articles.2&
JOURNAL ARTICLE Securitizing Infectious Disease –  http://www.jstor.com/stable/25144766
WHO decides on the exception? Securitization and emergency governance in global health – https://www.e-ir.info/2016/01/15/norms-and-the-securitisation-of-infectious-diseases/
BMJ – Do doctors have to have the covid-19 vaccine?
https://www.bmj.com/content/372/bmj.n810/rr-14
I and my entire family have had COVID. This as well as most of my friends, relatives and colleagues. I have recently lost a relatively young family member with comorbidities to heart failure, resulting from the pneumonia caused by Covid. Despite this, I would never debase myself and agree, that we should abandon our liberal principles and the international stance on bodily sovereignty, free informed choice and human rights and support unprecedented coercion of professionals, patients and people to have experimental treatments with limited safety data. This and the policies that go with this are more of a danger to our society than anything else we have faced over the last year.
What has happened to "my body my choice?" What has happened to scientific and open debate? If I don't prescribe an antibiotic to a patient who doesn't need it as they are healthy, am I anti-antibiotics? Or an antibiotic-denier? Is it not time that people truly thought about what is happening to us and where all of this is taking us?
AFLDS Frontline Forum – The Year That Disappeared
Dr Simone Gold and others discuss their own experiences of treating patients and also being victims of "cancel culture."
https://www.americasfrontlinedoctors.com/custom_videos/the-year-that-disappeared/
James Delingpole Interviews – Dr Mike Yeadon
https://podcasts.apple.com/gb/podcast/dr-mike-yeadon/id1449753062
Dr Mike Yeadon, former CSO and VP, Allergy and Respiratory Research Head with Pfizer Global R&D and co-Founder of Ziarco Pharma Ltd, talks about his grave concerns about the Coronavirus jab
UK Cinema Association reiterates opposition to use of COVID-status certificates
https://www.cinemauk.org.uk/2021/04/uk-cinema-association-reiterates-opposition-to-use-of-covid-status-certificates
Even when the current vaccine roll-out is complete, there will still be significant numbers of people who will not have been vaccinated, including pregnant women, people with certain disabilities or underlying conditions, and young people aged 18 and under. Making 'proof' of vaccination a condition of entry to a cinema would also potentially introduce significant issues of discrimination under the Equalities Act 2010 and act as a disincentive for disabled people in particular to go to the cinema. Indeed, it could be seen by some as a hostile act towards that community.
Incredible Hulk Variants and Other COVID Sci-fi Fantasies
https://muchadoaboutcorona.ca/incredible-hulk-variants/
In a recent episode of the High Wire, host Del Bigtree says:
We are putting immense pressure on [the coronavirus] with an underperforming vaccine that is going to turn it into a hulk. And [Dr. Bossche's] concern is that it will become so viral and so deadly that there is nothing we can do to stop it.
I can't help but feel Bigtree and Bossche may be big fans of I Am Legend. Both the novel and the movie are set in a post-apocalyptic America, where a mutant measles virus has wiped out most of mankind. Outside of such dystopian thrillers, however, it's hard to find examples of such genocidal pandemics (natural or manmade).
Del Bigtree was, as many know, commenting on Dr. Geert Vanden Bossche's open letter and interview where the vaccine scientist denounces the COVID-19 vaccine.
Well, he sort of denounces it.
Actually, not really.
Instead, he praises the COVID-19 vaccine — merely claiming that it is the "wrong weapon" at the "wrong time." Ignoring any of its innate dangers and risks, he says that its belated use in the midst of this (invisible) pandemic will trigger more lethal variants.
From 8 March – Surrey Hospital – Man Could Not See His Deceased WIfe
A sad account from Annalisa Arnold
https://www.facebook.com/annalisa.arnold.7/posts/10222893401016954
During waiting in my car for my mother while she attended a routine check-up outside East Surrey Hospital this morning, Monday 8th March, I was alerted to a man shouting and sobbing hysterically with an equally distraught looking younger man trying to calm him down at the main entrance.
I lowered my window to hear what seemed to be the problem, when I decided to go over and ask if I could help. An elderly distraught man and his son comforting him were denied access to see their deceased wife and mother who had been admitted to the hospital a few days previously. She had died, and the devastated husband had been told he could not see her and gain closure and say goodbye to his beloved wife.
I offered my support and spoke to the staff and security guard who came out to speak to him, they looked horrified as I held the man's hand and comforted him, two human bio hazards in such close proximity, and mask-less! I asked why he couldn't see his wife, and ranted about the false narrative and harmful and heartless regulations. I remarked on the lack of care, lack of empathy, lack of sensibility and lack of evidence of risk. The hospital employee said "think about your safety" to the gentleman!!!! I told her that he is grief stricken, had been with his wife up to her admission, and if there was a risk of any contagion it would be too late and would have been contracted already, and safety is now likely furthest from his mind, he probably felt that he would happily join her at this point! I voiced my opinion about the pseudo-science of mask wearing and that they most likely are contributing to surges in cases of bacterial pneumonia and that the "so called" C-Virus was one giant scam. The hospital employee bowed her head and said "I'm afraid I can't comment on that" of course. To be fair, she may well have agreed, but felt hopeless to go against hospital protocol. She went off to speak to someone inside the hospital, and see what she could do.
The guy sitting nearby, previously masked, now unmasked, started to chat to me about his situation with a relative that was having a lumbar puncture and was having all sorts of issues due to the excuse of C.V, he agreed it was all a huge insult to our intelligence!
The information I got from the men, was that they had been told that the husband could see his wife the night before, but that now he could not, they were unable to get to the hospital last night after she had passed, and were told they could come in the morning, which was now an issue.
I said I could come back after dropping my mum home if they needed help, or a lift home, gave the son my number, and told them to please call if they were denied this basic human right and needed some support, or any further help at all. I don't know the outcome, but really hope the man got to say his last goodbye to his wife, and that kindness overcame protocol. I hope perhaps Terry, the son, might call to accept any help I could offer him and his dad, even if only a chat over a cup of tea, for a bereaved elderly gentleman who had just moved to the area for a new life with his wife only four weeks ago. To be suddenly thrown into this hideous traumatic loss so soon, highlights the horror of this orchestrated pandemic and the effects it is having on ordinary people.
What on earth is left without human compassion? In its place a hideous control narrative, based on fear and hyped-up figures and fake tests for a posh named flu strain that every symptom under the sun is accredited to, with jobsworth yes-men running things and care and health and safety now a non sensical oxymoron. A future of endless vaccinations, (that are not even really vaccinations at all but actually mRNA bio technology), damaging health and creating a populace utterly reliant on the twisted system run by big Pharma corporations, in order to provide these unsuspecting people with the endless "Hegelian" cure for all the ill health that the medical tyrants have created in their high-tech Frankenstein inspired laboratories.
How I'm praying for the day when the criminal perpetrators of this insane scam get brought to justice, and the people of the world see the truth staring at them in the face of injustice.
Masked, Armed Police Confront Bathers on Montpelier Beach
https://www.midilibre.fr/amp/2021/04/05/montpellier-405-damende-pour-avoir-bu-du-rose-entre-amis-sur-la-plage-du-grand-travers-9469113.php
This Sunday, the gendarmes of Lunel carried out control operations on the beach of Grand-Travers in La Grande-Motte. The watchword was pedagogy. Only for Covid measures.
The donut vendor, sunglasses, swimsuit… Everything was there, this Easter Sunday, for an almost summer day on the beaches of Hérault. This was without counting on the new confinement which came into force on Saturday evening, with the possibility of walking within a radius of only 10 km.
Despite a tolerance for this Easter weekend with regard to travel, the police have intensified their checks with "an educational goal regarding the wearing of masks on the beach" , said the commander in charge of the operation, a few minutes before the start of the checks.
Yet More Evidence of Vaccination Passport Plans BEFORE the COVID Scamdemic
"COMMITTEE ON A EUROPEAN VACCINE INITIATIVE Knowledge is the best vaccine 2017-2018"
https://www.healthparliament.eu/wp-content/uploads/2018/04/Knowledge-is-the-best-vaccine.pdf
Page 10 (Page 6 in the PDF): 
RECOMMENDATION #1 A digital revolution – European vaccine e-Passport
We recommend the implementation of a European Vaccines e-Passport: a digital solution to manage vaccine data across Europe.
BBC Report 4 May 2019: https://www.bbc.co.uk/news/health-48159828
"Mr Hancock told the BBC he did not want to "reach the point" of imposing jabs, but would "rule nothing out".